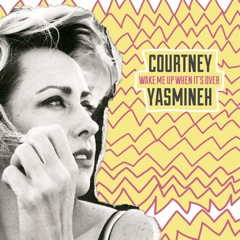 When did the brash femininity of the 90's get dampened down, married off and traded in for mealy-mouthed chic-lit concerns? Someone who is helping to fill that girl-with-a-guitar-shaped hole is Courtney Yasmineh. - UK Music Blog
Minneapolis (PRWEB) March 02, 2014
You can trip over the celebrated songwriters and "interesting" rockers that litter Minnesota's storied music scene. But you can't fake or invent the character, depth and personal backstory that emerging Alt Rock and Indie Pop songwriter Courtney Yasmineh is bringing to SXSW this month after four albums, nine videos, U.S. and Euro airplay, plus seven club tours to Europe.
And now Yasmineh has released a special seven-song South By preview performance posted to her YouTube Channel that includes "Stones," a stunning song about domestic violence balanced by the carefree pop ditty "Only One" and several other trenchant rockers, most from her new album, "Wake Me Up When It's Over."

Scrutiny
Ballad to My Other Self
Stones
Only One
Heartbreak Woman
Only Home
Wake Me Up When It's Over

You can also view and hear the individual songs above from the SXSW preview and her other work.
Yasmineh will play two shows with her four-piece band at the HandleBar (3-12) and The Blind Pig (3-13) during the SXSW March Music Madness. The gigs are part of the annual RedGorilla Music Fest March 11-15, with an international reputation for being the go-to showcase for discovering new music. Past acts have included: Macklemore & Ryan Lewis, Minnesota's own Doomtree and The Honeydogs, plus The Elephant, Nappy Roots, Colt Ford, Andrew WK, Trail of Dead, Katie Armiger, Here Come the Mummies, The Delta Saints, Family Force 5 and hundreds more.
Earning Her Place Among Other 'Chic Rock' Notables — and Reinventing the Genre: Or, Liz Phair With Balls
As MinnPost recently wrote,"Whenever Courtney Yasmineh has lost herself, she's found herself again in music. She did it as a 17-year-old, running away from a disastrous home life in Chicago and playing the bar circuit on the Iron Range [Dylan country] while living alone in a remote cabin near Tower [near Canada]. Ten years ago, she left her life as a doctor's wife and suburban mother of three to get back into the music business at an age when many are looking to wind down, not rev up... Cutting ties with the last vestiges of her former existence, she's selling her house to buy a van to travel in with her four-piece band."
"'I believe I'm doing my penance by giving up every idea I had of comfort and the trappings that go with it,' Yasmineh said. She declines to give her age, but it's safe to say that she's old enough to be the mother of many of the musicians who'll be playing in Austin."
Yasmineh's newest album, Wake Me Up When It's Over, "is easily her most upbeat, rocking record yet, and her steely voice is buoyed by smoldering guitar riffs, funky electro beats, and a full horn section," notes the powerful public radio station 89.3 The Current. Her earned place among the "chic rock" notables is finally dawning on fans and critics alike both sides of the pond who appreciate character-driven lyrics and music that are as painfully and refreshingly authentic as they are memorable:
"When did the brash femininity of the 90's get dampened down, married off and traded in for mealy-mouthed chic-lit concerns?" asks the UK's Green Man music blogger, Dave Franklin. "With the exception of a few feisty folkies, there seems to be a void that needs filling. Where is the new Patti Smith, the new Natalie Merchant, Debbie Harry, Sheryl Crowe or Alanis Morissette (early years only of course)? Someone who is helping to fill that girl-with-a-guitar-shaped hole is Courtney Yasmineh." In short, she's reinventing the genre.
While one US music critic called her very autobiographical 2009 album Beautiful Lonely "a fluorescent pop masterpiece," a bar-owning bloke in Amsterdam put it this way: "If Liz Phair actually ever grew a pair of balls, she could only hope to be as good as Courtney Yasmineh. Clever lyrics, stylish arrangements, a great f**king band and the whole "who gives a sh*t" bravado that is tragically missing from so many of today's female artists and girl groups."
Links:

Facebook: https://www.facebook.com/pages/Courtney-Yasmineh-Band/124447410005
Twitter: @cyasmineh

To interview Yasmineh about her SXSW gigs, her new album or rich life story, please contact Martin Keller at Media Savant Communications, 612-729-8585.