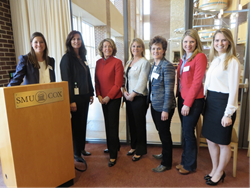 "Campus Outreach is an essential program for us in delivering NEW's mission. Our partnership over these past years with the MBA Women in Business Club is highly valued." - Genevieve Poirier-Richards
Dallas, TX (PRWEB) February 28, 2014
The MBA Women in Business luncheon began with informal networking in industry specific groups, followed by a panel discussion around Strategic Career Planning.
NEW Members and Executive Guests included: Christina Clarke, Sr. Director, Pepsico/FLNA. Former NEW Co-Chair; Genevieve Poirier-Richards, President, The Marketing Spectrum LLC – Consultants. Former NEW Co-Chair/Advisory Board; Christi Clinger, Vice President of Logistics and Demand Chain, 7-Eleven Inc.; Hollie Gonzales, Sr. Team Leader, Kimberly Clark Corporation; Dr. Karen V. Pizzimenti, Former Director of Global R&D, Coca-Cola Company and Kraft Foods; Kristi Maynor, Vice President of Strategy and Marketing, MEplusYOU Digital Marketing Agency; and Elizabeth Ward, Category Manager Snacks, 7-Eleven Inc. SMU Professional MBA, NEW SMU Campus Liaison.
Ms. Poirier-Richards and Ms. Ward worked with officers of the WIB Club to identify executives who could provide differing insight and perspectives around the stages of career planning, the importance of mentorship and sponsorship, and understanding opportunities that will be of benefit over a long-term career.
Ms. Lisa Tran, Associate Director at the SMU Cox Career Center, highlighted the importance of events such as the WIB/NEW luncheon with the following, "I highly recommend for students to attend events like the WIB/NEW luncheon because they will be able to network with dynamic women across various industries and functions. The best part of the event was hearing from successful women and their insights on the importance of utilizing professional and peer mentors, balancing career and family and taking advantage of opportunities to gain cross-functional experience." Other Faculty and Administrative staff for SMU also attended the event.
Panel members were provided with discussion questions before the event to help link their experiences with the student audience. Example questions included: "What factors do you consider when a new opportunity arises?" and "In what ways does career planning change over the course of the first ten years of a corporate career – what should we anticipate?"
Claire Cooper, first-year officer of the SMU WIB club and co-host of the event, commented, "One of the panelists mentioned that you need to evaluate what an opportunity means for the company as well as what it means for your personal development and career path. I was inspired by this as it connects my personal interests and a company's strategic goals." Hana Litterer, second-year Treasurer of SMU WIB club and co-host of the event remarked, "By attending the NEW Spring Luncheon Networking event in Addison last spring, I was able to connect with members of NEW with similar interests and goals. These connections have helped me to make career decisions even though I am still in graduate school."
Overall, the partnership event between WIB and NEW was highly successful not only in networking, but inspiring students as well. "Campus Outreach is an essential program for us in delivering our mission. We have worked with SMU since 2008, and several of their students have joined our industry. Our partnership over these past years with the MBA Women in Business Club is highly valued – these women are engaged, focused and impressive. We look forward to building on this partnership," Ms. Poirier-Richards stated.
The Network of Executive Women was founded in 2001 by a small group of industry executives who believed there were not enough female leaders in consumer products and retail — and that everyone would benefit if there were. Today the Network is the industry's largest learning and leadership community, with more than 8,000 members, 700 companies, 96 national sponsors and 20 regions in the U.S. and Canada. Our education, events, best practices, research and leadership development programs advance women, build business and lead the way to a better workplace for all.