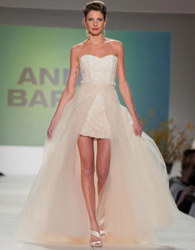 CHARLESTON, S.C. (PRWEB) February 28, 2014
Baker Motor Company Charleston Fashion Week (CFW), has selected finalists for its sixth annual Rock the Runway Model Competition™. CFW 2014 will take place March 18-22 under the tents in Marion Square. The Rock the Runway Model Competition™ will be held Fri, March 21. CFW's model search and competition is designed to provide aspiring models a platform to gain the attention of media, photographers, press and the top model scouts and agencies in the country.
CFW provides training, mentorship, professional experience and exposure to the industry's top leaders. Former CFW models have gone on to land contracts with IMG, Elite, IKON and Ford. Many have also appeared in Paris, London, Milan, N.Y. and Miami Fashion Weeks, and secured highly prestigious jobs with Women's Wear Daily, GQ, ELLE, Rolling Stone, America's Next Top Model, Gossip Girl, Oscar de la Renta, Mercedes-Benz, Louis Vuitton and Marc Jacobs, among others.
CFW 2014 boasts a total of 200 models who were cast in August from a group of 800 applicants. These 200 men and women, under the training of renowned model coach, Michelle Wood, will walk throughout the week's 45-plus runway shows. One male and one female winner will be selected on Fri, March 21 by CFW's VIP Model Panel including Karen Lee Grybowski, Sebastian Smith and Christina Zapolski.
This year's male finalists competing for the grand prize are: Zachariah Collins, Mason Gepp, Eric Massar, Tyler McKeever and Jake Mercer. The women finalists are: Mikayla Bryant, Jaclyn Carroll, Paige Daniels, Lauren Ellison, Rachel Friese, Summer Hendley, Cheyenne Hostetler, Emily Odom, Jade-Alexis Samatha Smiley and Taylor Sullivan.
For more information on CFW, including the full schedule and tickets, visit charlestonfashionweek.com. Find us on Twitter, Facebook, and Instagram at @ChasFashWeek.
About Baker Motor Company Charleston Fashion Week®
Showcasing fashion designers, retailers and models, Baker Motor Company Charleston Fashion Week® has fast become one of the premier fashion weeks in North America. Named the Biggest Style Event in the South by The Daily South and profiled on CNN, this multimedia event presents high-end runway shows, interactive entertainment, chic after-parties and press events. The 2013 event held under the tents in Marion Square in Charleston, S.C., featured more than 45 runway shows, Charleston Weddings Magazine's Spring Bridal Show, Emerging Designer Competition: East presented by Benefitfocus, and Rock the Runway Model Competition™. Baker Motor Company Charleston Fashion Week® 2014 is scheduled for March 18-22. For more information, visit http://www.charlestonfashionweek.com.
About Karen Lee Grybowski
Karen Lee Grybowski has discovered, coached and promoted many of the fashion industry's top models, such as Carolyn Murphy and Oluchi, at the onset of their careers. She served as the director of scouting for Wilhelmina, Pauline and Elite Model Management and spent 15 years travelling the globe, looking for new faces and empowering young women by helping them develop a sense of health, wellness, style and confidence. In 2009, Karen went out on her own and started the Karen Lee Group (KLG), a scouting firm that places the models it discovers with major model agencies around the world. KLG also offers consultations and workshops for those who desire or need coaching in modeling or who wish to pursue other career opportunities within the modeling industry.
About Sebastian Smith
Born in Biloxi, Miss., and reared in cities throughout Europe, Sebastian Smith has continued his travels into adulthood, always with a keen eye in search of beauty. His extensive portfolio includes work for clients such as Valentino in collaboration with Saks Fifth Avenue, Victoria's Secret and Diesel for Zoot magazine out of Lisbon. He has photographed a number of celebrities, including Stephanie Szostak for Details, Kim Kardashian for Socialite Style and Yara Martinez and Gillian Jacobs for B/W/R and ID public relations firms, and shot a campaign for INGLOT cosmetics that will be featured in Times Square this spring. Sebastian recently moved to Charleston and now divides his time between Brooklyn and the Lowcountry.
About Christina Zapolski
After walking for Charleston Fashion Week® 2012 as a top-10 finalist in the Rock the Runway Model Competition™, Christina signed with Ford Models. Since then, she has worked for clients including Chloe, Lanvin, Chanel and Bluefly; walked for Mercedes-Benz Swim Week in Miami and Fashion Week in New York; and been featured on the pages of Fitness and Self magazines, among others. The Charleston resident is also a part-time student at Fordham University, continuing her studies toward a degree in communications. Last November, Christina was crowned Miss South Carolina USA 2014.