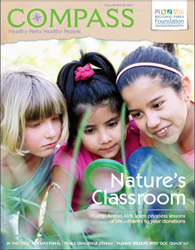 DCP demonstrated the ability to keep with the new brand promise and reflect a style that appears innovative, relevant, purposeful and engaging. — Carol Johnson, Executive Director for the East Bay Regional Parks Foundation
Walnut Creek, CA (PRWEB) February 28, 2014
Diablo Custom Publishing (DCP) today announced it is producing Compass magazine for the East Bay Regional Parks Foundation (EBRPF). The magazine will be published two or three times per year, and will be distributed to foundation members and active donors.
EBRPF chose DCP for its brand acumen, content development and design expertise. Furthermore, DCP has provided an end-to-end publishing-management solution, including: consulting services, prepress, printing, bindery and mail preparation.
The magazine's primary objectives are to:

Increase membership
Provide value to membership
Instill action (fundraising in particular)
Promote accessibility of parks
Use content to feed capital campaign outreach tools
"We have been delighted with our DCP partnership in regard to the development, creation and production of our new Compass magazine, which launched November 2013," states Carol Johnson, Executive Director for the East Bay Regional Parks Foundation. "DCP demonstrated the ability to keep with the new brand promise and reflect a style that appears innovative, relevant, purposeful and engaging."
About Diablo Publications
Diablo Custom Publishing (DCP), the Bay Area's leading custom publisher, provides complete print, online and mobile custom publishing services to a diverse group of clients, including top-level organizations in the healthcare and higher education industries, as well as in arts and entertainment, sports, and technology. With over 30 years of experience and an award-winning creative team, DCP develops integrated marketing solutions that help companies communicate brand value, deepen customer loyalty and increase revenue.
About East Bay Regional Parks Foundation
The Regional Parks Foundation was established in order to support the East Bay Regional Park District. The foundation's mission is to support the Regional Parks via fundraising that provides broader public access, resource protection and preservation, education and recreational programs, and the acquisition of parklands. One of the top priorities is to ensure that underserved populations have equal access to the parks, trails, programs and services.