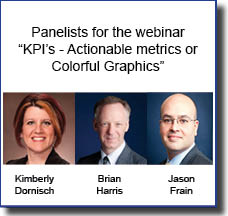 Anyone challenged to track performance will benefit from this webinar.
Hartford, CT (PRWEB) February 28, 2014
NEOS LLC, a management consulting and technology services firm, will host a webinar "KPI's - Actionable metrics or Colorful Graphics?" on March 18th at 12pm EST.
NEOS will gather industry leaders to discuss their experiences with making Key Performance Indicators meaningful and actionable. Brian Harris, Senior Strategy Consultant at NEOS, Kimberly Dornisch, PMP, Program Manager at Catlin Group, and Jason Frain, Retirement Product Development Leader, will discuss the challenges, successes and lessons learned from their combined 75 years of experience. In addition, Brian Harris will speak to the differences found across industries and how to avoid common pitfalls.
The explosion of retained data challenges companies to turn their data into actionable information or KPIs. According to Harris, many companies make mistakes in five common areas when approaching the development of metrics. At the end of the webinar, attendees will have a grasp on what has worked for other companies and what to avoid when developing their metrics.
"Anyone challenged to track performance will benefit from this webinar," says Scott Witter, Senior Principal at NEOS. "Our panelists will share real world tips and lessons on how to avoid wasting time and resources with inefficient and unusable metrics." As the moderator of the webinar, Scott looks forward to taking questions from the webinar attendees. "We've got a balanced set of panelists who can speak to all perspectives: business, technology, and executive leadership."
This webinar is part of a series of NEOS hosted webinars focusing on a variety of topics within the financial services, insurance and information media industries. Previous webinars have addressed topics such as gaining value from closed block portfolios and leveraging processes to reduce operational risk. The webinar series includes experts from across industries to maximize value to attendees.
About NEOS LLC
NEOS is a management consulting and technology services firm with unparalleled experience in holistic modernization, enterprise data and business operations consulting throughout the US, Europe, the Middle East and Asia. Clients range from large mid-cap companies to the Global 1000 segments including financial services, insurance and media. Services also include process, organizational and operational consulting, enterprise architecture strategies and design, reviews and planning, deployment and data analysis. NEOS is the parent company of Vgo Software that specializes in modernization analysis and conversions solutions.
For more information about NEOS, visit http://www.neosllc.com or follow us on LinkedIn, Facebook, Google+,YouTube, or Twitter.
About Vgo Software
Vgo provides the expertise, solutions, tools, and proven methodologies that insulate organizations from the complexities of change and accelerate application modernization. Supported technologies include IBM, Sybase, Oracle, and Microsoft. Modernization and conversion tools include Evo, (Oracle Forms® to Java), ART™, (Application Portfolio Assessment for Oracle Forms® and PowerBuilder Applications), and Evolutions™ (Application Conversion Methodology). Vgo Software is one of only two companies worldwide certified by Oracle Corporation to modernize Oracle Forms clients.
For more information about Vgo Software, visit http://www.vgosoftware.com.