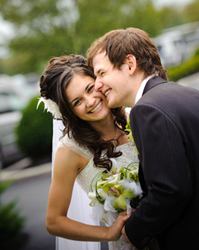 We take pride in our ability to offer the latest trending wedding details to brides. From wedding planning education to the latest fashion trends, brides will benefit from our blog!
Salt Lake City, Utah (PRWEB) February 28, 2014
Salt Lake Wedding Reviews helps brides connect with local wedding professionals. They are a Utah review site that allows brides to communicate their thoughts about local wedding businesses.
Aside from helping brides find the right vendors for their weddings, they have launched a wedding blog to educate brides. The Salt Lake Wedding Reviews Blog teaches brides everything they need to know about weddings and wedding planning.
The blog is an informative and inspirational blog intended to help new brides get ideas and learn wedding planning basics. These topics include: budgeting, organization, photography, catering, hiring professionals, reception centers, cakes, invitations and more.
"It's easy to assume that brides know what they are doing. The fact is that most brides are planning a wedding for the first time. When brides don't know what they are doing, they overspend and under-prepare. Our wedding blog both educates and inspires brides with information and ideas. This service is free to brides wherever they may be." –Ryan Swayt; Salt Lake Wedding Reviews
Brides can access this Wedding Blog through SaltLakeWeddingReviews.com directly or through Twitter, Facebook, YouTube, Pinterest, Google+, and other online sources.
The primary author of the Wedding Blog is wedding expert Ryan Swayt. As co-owner of SaltLakeWeddingReviews.com he has worked with hundreds of brides and wedding professionals. He is happily married to his wife Sheridan and has one daughter. The Salt Lake Wedding Reviews Blog is open to questions and post requests.
SaltLakeWeddingReviews.com/Wedding-Blog/ is now live, active and ready for brides around the world.