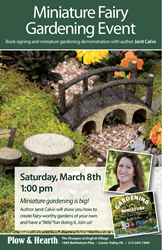 North Wales, PA (PRWEB) March 03, 2014
The Plow & Hearth store at the Shoppes at English Village in North Wales will host a free miniature gardening demonstration and book signing Saturday, March 8 at 1:00 pm with Janit Calvo. Janit is the author of the best-selling garden book by Timber Press, Gardening in Miniature: Create Your Own Tiny Living World. As part of the demonstration, Janit will use fairy garden furniture and accessories from Plow & Hearth's assortment of original and exclusive designs.
Janit is coming to the Plow & Hearth store as part of her trip to give a presentation at the Philadelphia Flower Show on March 7. She has taught and demonstrated miniature gardening to thousands through garden and miniature clubs, markets and shows. Janit started Two Green Thumbs Miniature Garden Center in Seattle, WA, in 2001, and has won many garden and miniature awards throughout the years. Her gardens have appeared in the Seattle Times, Dig Magazine, Dollhouse Miniature Magazine, Green Profit, Birds and Bloom, Better Homes and Gardens: Country Living, HGTV, as well as international garden magazines. See her work on the Two Green Thumbs website.
About Plow & Hearth:
Plow & Hearth is a trusted national retail, catalog and internet company specializing in unique, high-quality products for home, hearth, yard and garden since 1980. They were among the first companies to introduce fairy garden products to the consumer marketplace. Visit Plow & Hearth.
Plow & Hearth Store
Shoppes at English Village
1460 Bethlehem Pike, Suite 230
North Wales, PA
Store phone: 215-643-1909