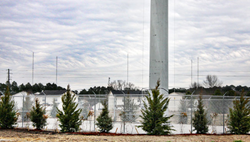 The new rules will significantly affect the way tower owners, wireless carriers, & utilities use structures near AM stations for cell sites, small cell location & DAS systems.
Greenville, NC (PRWEB) February 28, 2014
Lawrence Behr Associates, Inc., the technical consulting unit of LBA Group, Inc., announced the release of a comprehensive guide on new Federal Communication Commission (FCC) AM protection rules. The FCC's Policies and Rules Regarding AM Radio Service Directional Antenna Performance Verification, MM Docket No. 93-177, FCC 13-115, went into effect on February 20, 2014. The new rules will significantly affect the way tower owners, wireless carriers, and utilities use structures near AM stations for cell sites, small cell location, and DAS systems. AM stations gain major new rights from the new rules to receive advance notice of construction and to assert interference complaints against antenna structure proponents.
This new guide is authored by LBA's CEO, Lawrence Behr and the company's Chief Technical Officer, Chris Horne, PhD, PE. The two offer decades of experience in the areas of mobile communications, medium wave broadcast technology, RF safety and regulatory compliance related matters.
"13 New FCC AM Protection Rules You Need to Know!" is tailored to regulatory, risk management, and compliance personnel who deal with the construction or modification of towers, power lines and other structures that fall within the regulatory framework of the new rules. These rules are designed to protect the integrity of AM radio station signals. Some towers and other structures near the transmission facility of an AM radio station can become an unintended part of the AM antenna system, reradiating the AM signal and distorting the radio station's FCC-authorized AM radiation pattern. Improving the AM broadcast service has become a major FCC thrust in the last year and strong enforcement of new rules is expected.
With the implementation of FCC 13-115 the Commission harmonized and streamlined its rules regarding tower construction near AM stations. The move is intended to provide greater protections for AM operators. As is often the case with any new regulations, there are areas that seem vague and maybe difficult to interpret. This new industry guide available at: http://www.lbagroup.com/blog/new-fcc-am-protection-rules/ breaks down the 13 most critical aspects of the rules, how to effectively implement compliance with the rules and the additional protections afforded to AM radio operators to seek corrective measures and/or damages from a tower owner or tenant.
The authors pull from around 75 years of experience in dealing with the issued addressed in these new rules. This 15 page communications industry resource document is also being made available as a PDF download by clicking here. The document is specifically designed to help the reader connect the risk dots, and to adopt suitable best practices moving forward.
For additional information or help dealing with AM compliance issues as it relates to towers or other structures, contact Mike Britner at 252-757-0279 or mike.britner(at)lbagroup(dot)com.
About LBA Group Inc.
LBA Group, Inc. celebrates 50 years of experience in providing electromagnetic protection and augmentation for industrial and telecommunications infrastructure assets. It is comprised of the professional technical consultancy Lawrence Behr Associates, Inc.; LBA Technology, Inc., a leading manufacturer and integrator of radio frequency systems, lightning protection, and EMC equipment for broadcast, industrial, and government users worldwide; and LBA University, Inc. providing on-site and online professional safety training. The companies are based in Greenville, N.C., USA.