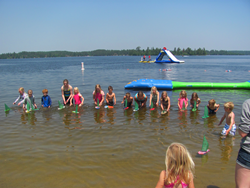 "It's a heartwarming experience to watch as families reunite for a vacation that has become a generational tradition." commented resort owner Eric Hanson.
Cook, MN (PRWEB) February 28, 2014
The Hanson family continues the 114 year tradition of entertaining and engaging visitors in the natural surroundings of Minnesota, on the shores of Lake Vermilion. Camp Twain is one way Pehrson Lodge combines fun and learning with children visiting the resort. In 2014, for two hours each day, Monday through Friday, the well organized program will offer kids a great opportunity to meet new friends while learning about nature.
Parents comment regularly on the memories and sometimes, life-long friendships their children have formed at Pehrson Lodge. Many families return, year after year, during the same vacation period. Many youngsters, who've met at the resort and renewed friendships over many summers, are now returning with children of their own.
Camp Twain shares adventures such as; model sailboat building and regatta race, pontoon boat lake tour with wildlife spotting, nature hike, ceramics projects, tying fishing flies and making jigs, water and field games, volleyball, and a fun cookout. The program connects the children with others near their age creating a "neighborhood" atmosphere appreciated by the participants.
"It's a heartwarming experience to watch as families reunite for a vacation that has become a generational tradition. Adults and children connect here and over the years, we've watched parents become grandparents, children become parents and new generations of kids discovering the joys of a northwoods vacation. We've always felt like our guests are our extended family and we feel lucky to host successive generations," said owner Eric Hanson.
Lake Vermilion is one of the most scenic lakes in Minnesota. Encompassing nearly 40,000 acres of water, with 365 islands and 1200 miles of shoreline, it is surrounded by thousands of acres of pristine wilderness and public land. The environment appears much as it did in 1900 when the resort first began hosting vacationers. Visitors are attracted by the scenery, wildlife and the famous Minnesota fishing. The resort offers a full service marina with a large selection of watercraft outfitted for various uses. Boats rigged for fishing, others for waterskiing, sight-seeing, or silent sports such as canoes or kayaks.
Kids never forget the first fish they catch and they can catch one right from the dock in front of their cabin. Walleye, northern pike, musky, bass, crappie, bluegill or sunfish are all abundant in Lake Vermilion. Beginners and expert fishermen enjoy the resort seminars on how and where to catch the various species.
Pehrson Lodge offers 28 beautiful housekeeping cabins, including 7 cabins which are designated as 'pet friendly'. All are situated on 2000 feet of Lake Vermilion's prime shoreline. Guests enjoy complimentary use of kayaks, sailboats, hydro bikes, canoes, paddleboats and wind surfers.
Read more about Pehrson Lodge at http://www.pehrsonlodge.com or call 800-543-9937 for personal assistance in planning activities for every member of the family.