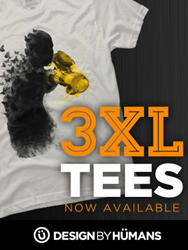 Chico, CA (PRWEB) February 28, 2014
Design By Humans (DBH) has always been proud to offer the highest quality graphic t-shirts. With the addition of 3XL graphic tees for men, DBH has created an opportunity for more of their customers to purchase products that fit and illustrate their own unique lifestyle. Design By Humans 3XL t-shirts are printed in the USA using eco-friendly, sustainable inks, and are guaranteed to be 100% sweatshop and child labor free. Customers can rest easy knowing that DBH has built this kind of accountability into their business model.
DBH "contemporary fit" 3XL shirts for men are made with a little extra shoulder room and 100% ringspun cotton - meaning customers will look good while they're feeling good. These 3XL tees for men are available in the same range of colors as their other men's collective shirts, so there is no trade off in style. Men's 3XL t-shirts at Design By Humans are currently selling for $25, which is just a $1 increase from the S-2XL sizes. This also means shoppers won't break the bank. The best news is that 3XL men's t-shirts are still available in 7,000 unique designs created by hundreds of international collective artists.
When DBH began their digital printing journey they searched high and low for the best quality tees, did hundreds of test prints on various printers, and completed hundreds of wash tests to find the perfect blend of vibrancy and efficiency. They can't share all of their secrets, but they do have a special approach to color technology to get the best t-shirt prints possible and a very dedicated team making sure all your graphics tees are top-quality.
Design By Humans is also doing their part to help preserve the environment and reduce their ecological footprint. They use eco-friendly, sustainable inks on every one of their printed t-shirts, which produces a print that becomes a part of the shirt rather than sitting on top of the material. This means you'll get a more breathable, higher-quality and longer lasting t-shirt.
Design By Humans seeks to offer a wide range of unique products for humans of every shape and size while using the most efficient, vibrant, and eco-friendly DTG printing practices. The addition of men's 3XL graphic tees will allow more humans to illustrate their lifestyle.
About Design By Humans
Design By Humans was started in 2007 with the simple vision of bringing artists from around the globe together to give them a platform to produce wearable art that tells a story, strengthens humanity and inspires life through creativity and design. The DBH Collective initiative is inspiring amazing artists and giving them a unique foundation to share artwork through a personal online storefront.
###
If you'd like more information about this topic, please call +855 333 9836 x 302 or email press(at)designbyhumans(dot)com.