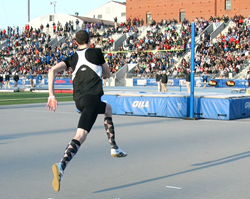 I never would have thought that 13 years into my track and field career I would still be setting personal bests (7'4.25") and owe much of my improvements to them (Zensah).
Miami, FL (PRWEB) February 28, 2014
The Track and Field World Indoor Championships, held in Poland the first weekend of March, promise to bring out the best athletes from across the world. The US team was finalized last week at the National Championships in New Mexico, where Zensah® Athlete, Garrett Huyler, competed for a chance to make the US National High Jump team. Zensah® is a Miami-based compression apparel company that focuses on comfort and technology in the development of their gear. In a sport strongly dominated by brands like Nike and Adidas, Zensah® is honored to partner with High Jumper Garret Huyler who took 6th place at nationals.
Track and field includes sprints, hurdling, high jumps and a variety of other activities. Many of the sports like sprinting, long jump and high jump require bursts of energy that result in high impact on muscles and possible injuries. One of those uncomfortable pains that plague many track and field athletes are shin splints.
Zensah's Tech+ Compression Socks offer a unique design and ribbing to support leg muscles and help prevent the pain of shin splints. The Tech+ Compression Socks are made with 200 needle count making them durable, denser and better fitting socks. Track and field athletes benefit from wearing compression socks during competition, and afterwards for recovery. The Tech+ compression socks are made with seamless construction to prevent blisters and chafing. A lightly cushioned sole makes the Tech+ socks very versatile to fit comfortably with all track and field shoes.
Huyler has been jump since the 8th grade and has worked with Zensah® for over 2 years. Huyler says, "It has been an honor to represent Zensah over the past 2 seasons. They have developed high quality, innovative products that have allowed me to train longer and harder than other athletes while still remaining healthy. I never would have thought that 13 years into my track and field career I would still be setting personal bests (7'4.25") and owe much of my improvements to them."
Suzanne Kerpel, Marketing Director at Zensah® says, "It is an honor to have Garrett as part of our team. He is such a dedicated athlete and all around good person. We are so excited about his success at nationals and that our products like the compression socks are such a helpful tool in his training and recovery."
In addition to Zensah® Tech+ Compression Socks, Huyler also benefits from the Zensah High Compression Shorts and Zensah Compression Knee Sleeve.
About Zensah: Zensah® is a Miami-based company, specializing in sports compression apparel. Their seamless compression socks, compression sleeves, full product line are praised by athletes and fitness enthusiasts, including running, cycling, triathlon, yoga, basketball, golf, and soccer. Zensah® offers compression products for performance and recovery. According to Leisure Trends Group Specialty Running RetailTRAK™, Zensah® is the number one selling Compression Leg Sleeves in the USA for Running Specialty.
Parker Robinson
marketing(at)zensah(dot)com
ZENSAH® COMPRESSION APPAREL
(305) 935-4619