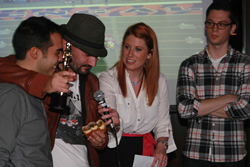 "Films will be judged by other indie filmmakers. This means that awarded movies and professionals are rightfully chosen."
New York, NY (PRWEB) February 28, 2014
Collecting awards is always an honor to filmmakers, directors, producers, actors and actresses. The 5th New York City Independent Film Festival is again providing the opportunity to the Indie filmmakers to be recognized for their work and talent. The awards ceremony will take place in October at the close the festival.
Filmmakers all over the world can apply submitting their films to the 5th New York City Independent Film Festival.
In addition to screening the best indie films, the festival hosts parties, ceremonies and panel discussions. The most important ceremony is the Best of Festival Awards that recognizes the best in 9 categories: director, actress, actor, script, narrative feature, music video, short film, documentary and super short film. A board of indie movies professionals selects the winners. Also a Mark of Distinction Award is offered to the audience's choice.
"Films will be judged by other indie filmmakers. This means that awarded movies and professionals are rightfully chosen," said Dennis Cieri, Executive Director and Founder of the NYC Indie Film Festival. "Films selected for the festival can also win a Mark of Distinction Award. These award winners can also feel very proud: the movie is really affecting and touching people."
The festival includes films in the following categories: feature-length, documentary, short, super-short, music video and art video. This year, plans are to show well over 100 films. The festival takes place in the Producers Club, located in the heart of Manhattan's theater district. The deadline to submit a film is May 31, 2014. Filmmakers can submit to the New York City Independent Film Festival using the festival website or any of the following websites: ClickForFestivals.com, FestHome.com, FilmFestivalLife.com, FilmFreeway.com and Withoutabox.com.
Visit the website http://www.nycindieff.com to learn more about the festival as well as information about submissions and past years selected films. Join the festival on Twitter @NYCIndieFF, and Facebook at facebook.com/nycindieff.
____________
5th Annual New York City Independent Film Festival
Selection of over 100 independent movies spanning feature, documentary, short, super short, music videos and art videos.
From October 15th to 19th, 2014. In the Producers Club, 358 West 44th Street, New York, NY
Learn more: http://www.nycindieff.com or (917) 608-4784.