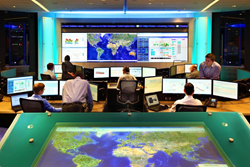 Atlanta, GA (PRWEB) March 03, 2014
With an emphasis on control room design and display wall technologies applicable to the electric cooperative, CriticalSpace Solutions, a Technical Innovation company, will be demonstrating the latest in collaborative technologies during the annual 4-day event.
An expert in control room design/build and technologies for use in the utilities marketplace, Mark Steele, Utility Project Development Manager, will be available to demonstrate and discuss these advanced visualization technologies and their applications. Mark has an extensive knowledge of video walls and operator consoles as well as enterprise level video. While there are a number of commonalities in the "critical space" markets, each area has its own specific needs and challenges. Mark is uniquely qualified to advise show attendees on the specific requirements of the operators in the utilities markets. CriticalSpace Solutions will be in Booth #1415.
About CriticalSpace Solutions
Critical Space Solutions, a Technical Innovation Company, has the focus and expertise to provide you with a completed project that exactly meets your needs. Our goal is to help you create a total environment that takes into account both the monitoring and control capabilities you demand and the attributes of the work space that will contribute to employee productivity and retention. To learn more about CriticalSpace Solutions, visit http://www.ticss.net.
For additional information about TechAdvantage, visit http://www.techadvantage.org.