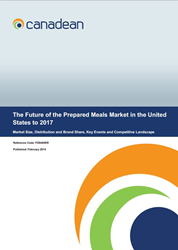 Rockville, MD (PRWEB) March 05, 2014
The Future of the Prepared Meals Market in the United States to 2017: Market Size, Distribution and Brand Share, Key Events and Competitive Landscape
The Future of the Prepared Meals Market in the United States to 2017: Market Size, Distribution and Brand Share, Key Events and Competitive Landscape is the result of Canadean's extensive market and company research. This report presents detailed analysis on the Prepared Meals consumption trends in the United States, historic and forecast Prepared Meals consumption volumes and values at market and category level. It also provides indispensable data on brand share, distribution channels, profiles of companies active in the global Prepared Meals market along with latest industry news, in addition to mergers & acquisitions. This report brings together Canadean Intelligence's research, modeling, and analysis expertise in order to develop uniquely detailed market data. This allows domestic and foreign companies to identify the market dynamics to account for Prepared Meals sales overall and to know which categories and segments are showing growth in the coming years.
This report provides authoritative and granular data on the Prepared Meals market in the United States and, in doing so fills the gaps in marketers' understanding of trends and the components of change behind them. Based upon extensive primary and secondary research to provide comprehensive and granular data, this report allows marketers to confidently update their strategic and tactical plans. Marketers need data on volume and value changes, brand dynamics and distribution trends in order to effectively plan strategies.
This report examines the components of change in the market by looking at historic and future growth patterns, including the effects of consumers' behavior on total volumes, values, brands selected and types of product chosen. The report provides the latest, detailed data on dynamics in the United States Prepared Meals market, providing marketers with the essential data to understand their own, and their competitors' position in the market and the information to accurately identify where to compete in the future.
To order this report:
The Future of the Prepared Meals Market in the United States to 2017: Market Size, Distribution and Brand Share, Key Events and Competitive Landscape
Contact: Shauna
800.298.5699
Customerservice(at)marketresearch(dot)com
Canadean
Canadean has long held a reputation with FMCG markets for providing specialist business information by conducting detailed industry and consumer research, supported by insightful value-added analysis. Canadean covers the entire spectrum of the consumer value chain from suppliers, brand owners, distribution channels and consumer insight.
About MarketResearch.com
MarketResearch.com is the leading provider of global market intelligence products and services. With research reports from more than 720 top consulting and advisory firms, MarketResearch.com offers instant online access to the world's most extensive database of expert insights on global industries, companies, products, and trends. Moreover, MarketResearch.com's Research Specialists have in-depth knowledge of the publishers and the various types of reports in their respective industries and are ready to provide research assistance.
Follow us on Facebook http://www.facebook.com/marketresearchdotcom
Follow us on Twitter http://www.twitter.com/marketresearch_
The Future of the Prepared Meals Market in the United States to 2017: Market Size, Distribution and Brand Share, Key Events and Competitive Landscape - Table of Contents:
1 Introduction
2 The United States Prepared Meals Market Analysis, 2007–17
2.1 Prepared Meals Value Analysis, 2007–17
2.1.1 Overall Prepared Meals Market Value, 2007–17
2.1.2 Prepared Meals Market Value by Category, 2007–17
2.1.3 Market Growth Dynamics by Value – Prepared Meals, 2007–17
2.2 Prepared Meals Volume Analysis, 2007–17
2.2.1 Overall Prepared Meals Market Volume, 2007–17
2.2.2 Per-Capita Consumption - Prepared Meals, 2007–17
2.2.3 Prepared Meals Market Volume by Category, 2007–17
2.2.4 Market Growth Dynamics by Volume – Prepared Meals, 2007–17
3 The United States Meal Kits Market Analysis, 2007–17
4 The United States Pizza Market Analysis, 2007–17
5 The United States Ready Meals Market Analysis, 2007–17
6 Profiles of Companies Active in the Global Prepared Meals Market
7 News and Key Events in the Global Prepared Meals Market
8 Deal Activities in the Global Prepared Meals Market
9 Appendix