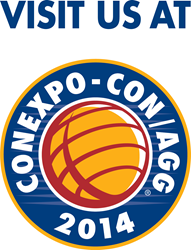 BIM Manager's browser functionality allows any project team member to review and interact with 3D BIM models, ensuring they can access and view current project specifications without the need for significant training or expensive authoring tools
Las Vegas, Nev. (PRWEB) March 04, 2014
Live from CONEXPO-CONAGG 2014, Viewpoint Construction Software®, providing construction specific software that integrates, has its largest presence ever at CONEXPO, booth 65001, showcasing Viewpoint For Project Collaboration, a new solution providing project and BIM collaboration tools, including an easy to use browser-based viewer for 3D BIM models, BIM Manager. BIM Manager's browser functionality allows any project team member to review and interact with 3D BIM models, ensuring they can access and view current project specifications without the need for significant training or expensive and complicated authoring software.
Viewpoint will also show the latest version of Viewpoint V6 Software® which includes significant updates in accounting, project and service management, mobile field and enterprise content management. These product updates further enrich the user experience and deliver functionality designed to enhance customer business processes. Viewpoint V6 offers larger contractors a comprehensive solution that is configurable to meet the requirements of the entire enterprise organization.
Additionally, Viewpoint will have a second booth 64516, featuring ProContractor by Viewpoint, showcasing construction software tools built for smaller contractors who are looking for an integrated solution focused on simplicity and ease of use. The all-in-one solution includes takeoff and estimating, project management and accounting. ProContractor is built using the same Microsoft components used in Viewpoint's V6 Accounting and Project Management software, but is fine-tuned for the small- to medium-sized contractor.
About Viewpoint
Viewpoint, a leader in meeting the collaborative and information needs of the AEC industry offers construction-specific solutions for a variety of professionals including small, medium, large and enterprise contractors. Viewpoint solutions include takeoff and estimating, project management, accounting solutions, enterprise resource planning, project and BIM collaboration, mobile field-to-office and enterprise content management. Viewpoint customers include more than 30 percent of the ENR 400 and have the most technology partnerships with the top 50 mechanical and electrical contractors in the United States. Viewpoint serves as the technology partner of choice to the construction industry and delivers the right solutions on the right platform, including cloud, SaaS and on premise solutions and provides customers improved accountability, efficiency and productivity throughout the U.S., Canada, the United Kingdom, Europe, the Middle East and Australia. For more information, please visit http://www.viewpointcs.com.
© 2014 Viewpoint, Inc. dba Viewpoint Construction Software. All Rights Reserved. Viewpoint®, Viewpoint Construction Software®, Viewpoint V6 Software®, Construction Imaging®, Mobile Field Manager™, 4Projects®, and Viewpoint For Project Collaboration™ are trademarks or registered trademarks of Viewpoint, Inc., in the United States and/or other countries. Other names and brands may be claimed as the property of others.