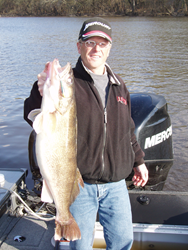 "Jim will pick you up at your dock in his pro bass boat", said owner Roger Bruhn.
Babbitt, MN (PRWEB) February 28, 2014
Timber Wolf Lodge of Ely, MN, is offering a free three-hour guided fishing expedition on Bear Island Lake with walleye circuit pro guide, Jim Orcutt. Make vacation reservations between March 1st and March 30th to receive an all inclusive fishing trip with Jim – compliments of Timber Wolf Lodge.
Timber Wolf Lodge is located on the shores of Bear Island Lake near Ely, MN. Bear Island Lake is renowned for its scenic beauty and excellent fishing opportunities. Walleye, Northern Pike, Small Mouth Bass, Crappie and Bluegill are abundant. Since 2003, the Minnesota Department of Natural Resources Fishery Division has released 900,000 walleye fry every other year into the lake. As of 2013, that amounted to nearly half a million walleye.
Any authentic Minnesota Vacation features fishing. Visitors of all ages can experience the thrill of catching game fish from the crystal clear waters of the nearly 1200 pristine lakes located near Timber Wolf Lodge. The resort is located just southwest of the Boundary Waters Canoe Area. Thousands of acres of public lands are preserved here much as they were when the first Voyageurs traversed the area, trapping, fishing and trading. The images of pine studded shorelines reflected in the sky blue waters are unforgettable. Memories made here with friends and families are often shared down through the generations as guests return year after year.
"Jim will pick you up at your dock in his pro bass boat", said owner Roger Bruhn. "It's a great experience for adults and kids alike. His boat is one of the nicest in Ely. And Jim will supply you with everything… rods, reels, bait and knowhow. He even baits your hook. He has the latest GPS and fish finding technologies and good local knowledge of the lake."
Bruhn continues, "Our goal with this free guided trip and the free guided hikes up to Kawishiwi Falls, is to make this vast wilderness more accessible to folks that are unfamiliar and maybe even a little intimidated by stepping out into nature. We want to make the entire Ely experience accessible to everyone."
Timber Wolf Lodge serves as an official weigh-in station for the Ely Echo newspaper. During one month alone, Timber Wolf Lodge registered Northern Pike of 20 pounds 4 ounces, 17 pound 8 ounce and 16 pounds. Also registered were a 24.75 inch Walleye and a 19 inch Large Mouth Bass. Seven to nine pound Walleyes were also registered that week. Many of these fish are weighed or measured and released back into the lake by those who practice "catch & release". The fish just keep getting larger year-after-year.
"There's quite a buzz here at the Lodge when these lunkers arrive at our dock. I will sometimes get a call from the guys while they are still on the boat saying 'we'll be there in 5 minutes'. As word travels around the resort most of the staff and many guests greet the heroes at the dock waiting to see what emerges from their live well."
Resort guests are treated to amazing sunsets over Bear Island Lake. The staff also offers guided nature hikes to legendary Kawishiwi Falls – the largest falls in the region. 1,000s of sweet family memories are made each-and-every year overlooking the majesty of the falls, snapping pictures and sharing your experience via Facebook, Twitter and other social media. Timber Wolf Lodge has Wi-Fi at its beach area to make this even easier.
Each cabin features the comforts of home with fully equipped kitchens, Keurig coffee makers, Sleep Number beds, luxurious linens and pillows and new furnishings. Outdoors, a fire pit and a supply of campfire wood invite a relaxing evening around the crackling fire. The scent of pines, the sound of waves lapping the shore and the echo of loons calling across the water are unforgettable.
One to five bedroom cabins can accommodate groups and families of many sizes. For full resort information, or to inquire about dates and availability, visit
http://www.timberwolflodge.com website or e-mail us at guest@timberwolflodge.com
Book by March 15th to receive the guided fishing trip with professional guide Jim Orcutt. The MN Fishing Opener in May 10, 2014. The staff of Timber Wolf Lodge is looking forward to kicking off the 2014 season and eager to assist guests in planning the most memorable vacation of a lifetime here, at the edge of the wilderness, in northern Minnesota!