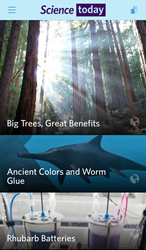 With the new Science Today mobile app, we hope to inspire users to dive deeper and activly explore the wonders of the natural world.
New York, NY (PRWEB) March 03, 2014
Cainkade, a New York-based software design and development studio, today announced that the California Academy of Sciences has launched Science Today for iPhone and Android phones. This educational app presents the latest natural history news and research in rich photos and originally-produced videos.
Cainkade worked with the California Academy of Sciences to design and build this experience for students of all ages. It joins a suite of popular apps including Pocket Penguins, Academy Insider, and the Golden Gate Park Field Guide. These apps bring the Academy's voice and expertise outside the walls of the museum, empowering explorers in the San Francisco Bay Area and beyond.
"As a public museum and world-class research institution, we are thrilled to bring original, engaging content to science news consumers around the world," says Dr. Elizabeth Babcock, the Academy's Chief Public Engagement Officer and Roberts Dean of Education. "With the new Science Today mobile app, we hope to inspire users to dive deeper and actively explore the wonders of the natural world."
"The Academy photos and videos are stunning. We set out to immerse the viewer in the experience, and stay true to the Academy's brand and reputation," said Eric Elia, Cainkade. "We've been pleased by the great response from both kids and adults."
The application uses custom developed functionality to ensure smooth and fast performance and to integrate with the Brightcove video platform for playback.
Science Today is now available from Apple App Store and Google Play.
About Cainkade
Cainkade is a product design and development studio focused on beautiful user experiences and scalable technology. The company works with both well-known companies and startups to bring to life new media and digital health experiences. Cainkade was founded in 2007 and has offices in New York City and Oakland, California.
About the California Academy of Sciences
The California Academy of Sciences is a leading scientific and cultural institution based in San Francisco. It is home to an aquarium, planetarium, natural history museum, and research and education programs, which engage people of all ages and backgrounds on two of the most important topics of our time: life and its sustainability. Founded in 1853, the Academy's mission is to explore, explain, and sustain life. Visit http://www.calacademy.org for more information.