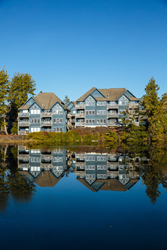 "We are very excited to introduce this new location to our Members - it will be the perfect complement to our west coast resorts in Vancouver and Whistler, British Columbia."
Vancouver, British Columbia (PRWEB) March 03, 2014
Club Intrawest, a boutique private vacation Club, is thrilled to be opening its ninth location in Ucluelet, British Columbia. Club Intrawest – Ucluelet is located within the picturesque Water's Edge Resort overlooking Ucluelet Harbour and is just minutes away from the famed Pacific Rim National Park Reserve. This boutique collection of 1- and 2-Bedroom Vacation Homes will provide Club Intrawest Members and guests with the perfect launching off point to explore the natural beauty of the Ucluelet and Tofino region.
"We are very excited to introduce this new location to our Members," says Club Intrawest President Trevor Bruno. "Club Intrawest Members are an active and adventurous group and Ucluelet will provide them with access to a quintessential West Coast experience with pristine wilderness, abundant wildlife and no shortage of activities and adventures. It's also the perfect complement to our other West Coast Club locations in Vancouver and Whistler."
Renovations of the Vacation Homes are currently underway in order to provide Members with the comfort and style they have come to expect from other Club Intrawest locations. The Vacation Homes will have a West Coast beach cottage feel with a relaxing natural palette that will provide a bright, warm and cozy space on a dark and stormy West Coast evening. The textural neutral finishes will be splashed with hues of blue and green and mixed in with weathered woods and smooth beach rocks. This will be an escape to nurture the senses.
The Club will begin welcoming Members on May 15, 2014.