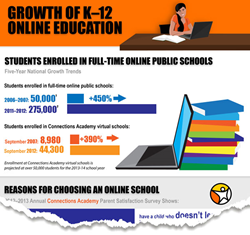 Planning ahead, and understanding how it all works is essential to ensuring the academic and emotional success of students enrolled in schools supported by Connections Education.
Baltimore, MD (PRWEB) March 03, 2014
Enrollment for the 2014-15 school year is officially open for online and blended schools supported by Connections Education, a leading, fully accredited provider of high-quality, highly accountable virtual K-12 schooling.
Connections presently serves students in 23 states through fully-online Connections Academy schools for grades K-12* and "blended" Nexus Academy high schools that combine online and in- person learning in a unique campus setting. Both schools offer students an individualized approach to learning and combine certified teachers, an award winning curriculum, technology tools, and socialization opportunities. As public schools, there is no tuition to attend.
Virtual and blended schools appeal to all types of students, and families are choosing them for a variety of reasons. According to a 2013 third-party survey of parents of students enrolled at schools supported by Connections Education, the top reasons for choosing online school include: having a child that doesn't learn well in a traditional school setting; the desire for a more flexible school schedule; wanting a change in the learning environment from their current school situation; and wanting a safe learning environment. Learn more in Connections Education's Infographic: Growth of K-12 Online Education.
New for the 2014-15 school year are at least two additional full-time virtual public schools supported by Connections Education in Massachusetts and California. Curriculum highlights will bring expanded offerings from Juilliard eLearning and additional Career Technology and Education (CTE) courses.
In the months ahead, Connections Education-supported schools will host over 2,000 information sessions in-person and online for families interested in learning more about online and blended learning. According to Connections Education Community Outreach Director Sylvia Pryor, it's important for families considering full-time virtual or blended schools to attend an information session. "At information sessions, families really get a feel for what to expect and what's involved in online education so they can determine if it is the best fit for their student. Planning ahead, and understanding how it all works is essential to ensuring the academic and emotional success of students enrolled in schools supported by Connections Education. We strongly encourage families to attend information sessions."
At information sessions, parents will have an opportunity to learn about the Connections Education curriculum, thoroughly explore the school program and interact with faculty and other parents. For those unable to attend an in-person information session, real-time interactive online sessions with a school representative are available. Interested families may also attend Parent-to-Parent meetings for the opportunity to speak with currently enrolled families in a more casual setting. In addition, some states have online on-demand sessions available 24/7. A complete schedule with dates and locations is available online or by calling (800) 382-6010.
Prospective students and their parents can also learn more about Connections Academy and Nexus Academy via many social networks: Facebook, Twitter, YouTube, Pinterest and Virtual Learning Connections, a blog for families interested in supporting K-12 learning from home.
For more information about full-time online school information and enrollment eligibility, visit http://www.ConnectionsAcademy.com. Blended school information is available at http://www.NexusAcademySchools.com. For families interested in a virtual, tuition-based private school experience, International Connections Academy serves students in grades K-12 worldwide.
*Most, but not all schools, serve grades K-12
About Connections Education
Connections Education is a leading provider of high-quality, highly accountable virtual education solutions for students in grades K–12. Since 2001, the company's Connections Academy division has delivered individualized learning to students through virtual public schools. In the 2013–14 school year, 30 Connections Academy virtual (online) public schools and Nexus Academy blended schools operate in 23 states and expect to serve more than 45,000 students from across the U.S. A private online academy, International Connections Academy, serves students worldwide. The Connections Learning by Pearson division meets the needs of schools, school districts, and other institutions looking to develop and enhance their online learning programs. Connections Learning by Pearson delivers a full range of targeted digital learning solutions to the K–12 education community including online courses, a program for homebound students, a digital learning platform, and more. Connections Education is committed to expanding quality education through technology and helping students achieve both academic and personal success. For more information, call 800–382–6010 or visit http://www.ConnectionsEducation.com. Connections Education is part of the global learning company Pearson (NYSE:PSO).