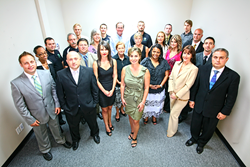 AppFolio will increase the efficiency and effectiveness of routine tasks for every Smartland client.
Highland Heights, OH (PRWEB) March 05, 2014
Smartland, a leading real estate investment and management firm in Northeast Ohio, has recently announced the upcoming integration of AppFolio, a web-based property management software to be used in the anticipated expansion efforts of residential real estate investments. Smartland is enhancing the current online property management platform to amplify the opportunity for a hands-on approach to all rental related tasks for its investors and residents. Included in AppFolio are capacities for tenant management, facilities management, manager and owner features, and accounting materials available from one centralized headquarters. AppFolio will actively facilitate communication and productivity among its users thus heightening the prosperity of Smartland's investors, managers, and tenants.
This innovative transition will allow users to market and manage real estate portfolios instantaneously, digitally request and complete work orders, and interact with residents quickly and easily while providing clients with tools that will take the time and hassle out of renting a home. The functionality of the AppFolio software is modern, secure, and most importantly, easy to use.
The integration of the AppFolio backend business administration will serve as a beneficial solution to management related matters for Smartland's investors and property managers alike. The ability to manage properties from anywhere, fill vacancies faster, and decrease hardware costs are features that are simply unmatched by existing management software applications today. The AppFolio system also gives property managers the opportunity to go paperless while staying organized.
Beneficial to Smartland's tenants will be the new capability to make electronic rent payments through the AppFolio software, faster processing of maintenance requests, and improved communication between homeowners, management,and residents. Smartland expects the function and structure offered by the AppFolio application to increase resident retention as well as overall tenant convenience and satisfaction.
The integration of the AppFolio software by Smartland is essential to increasing the accessibility and accommodation of all rental related services for investors, managers, and renters. The complete set of residential property management tools associated with the AppFolio design will increase the efficiency and effectiveness of routine tasks for every Smartland client.