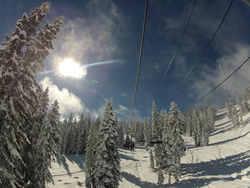 Concord, CA (PRWEB) February 28, 2014
Bay Area Ski Buses will be running through Monday this weekend to accommodate those who want to ride in the several feet of snow expected in Tahoe. Buses pick up riders in several convenient Bay Area locations. To find out more, visit Bay Area Ski Bus' website at http://www.bayareaskibus.com or check out their Facebook page at https://www.facebook.com/bayareaskibus.
2014 has been a great year so far for Bay Area Ski Bus and they hope to continue the good times through spring. Through the growth of social media and the interaction among riders, Bay Area Ski Bus has built up something special. They continue to work closely with the ski and snowboard community, a passionate and vibrant voice in the environmental movement. Bay Area Ski Bus provides an excellent service not just for the riders, but for the atmosphere that has now pulled several hundred drivers off the road for every bus they send to Lake Tahoe.
"We are grateful for the environment that provides such amazing terrain for all of us to enjoy," says Kevin Larroque, advertising director and Bay Area Ski Bus partner. "It's all come together better than any of us could hope for. We not only have a huge community of people who love the sport and the outdoors, but we can actively reach out to this group as a force in the environmental movement with the focus on awareness."
A typical trip starts with an early morning pick-up around 5 a.m. or a bit earlier. Riders are greeted by a nice host and bus driver who assist with checking in. The bus has overhead bins, a bathroom on board and comfy seats. Riders can get comfy and grab a bit of early rest before waking up in the foothills of the Sierra. A light breakfast is served while the videos fire up on the bus.
When the bus arrives at the resorts in Tahoe, riders are offloaded and given lift tickets and everything else they need to enter the resort right there at the bus. Riders can then spend the entire day riding the slopes before returning for the Apres party at the bus at 3:30 p.m. The party allows returning riders to get food from a grill, grab a beer, glass of wine or other beverage and mingle with fellow riders to share some great stories before heading home.
About the Company:
Bay Area Ski Bus opened its doors in 1996 and today runs more than 350 trips per year. Management has more than 40 years of combined experience producing tours and events. They focus on the details, so their customers can focus on having fun. Their quality and service is unmatched. Bay Area Ski Bus drives their customers to Tahoe Resorts in luxury comfort. When customers ride with Bay Area Ski Bus, they can get to know other riders and enjoy a peaceful relaxing drive to the mountains. They also get some snacks on the way, and lift tickets are handed out right there on the spot. Customers who bring a friend can also earn referral points. For more information, visit their website at http://www.bayareaskibus.com/.