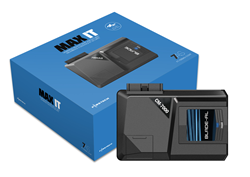 The 7-Series is the culmination of two years' worth of persistence [ . . ] It is the best of what we are.
Seattle, WA (PRWEB) February 28, 2014
Firstech, LLC, makers of Compustar, released the "7-Series" - its next generation of remote start and security control modules. The CM-7000 and CM-7200, otherwise known as the 7AS and 7S respectively, will replace Firstech's previous lineup of remote start and security control modules this spring.
"The 7-Series is the culmination of two years' worth of persistence, backed by real world experiences, years of input from our dedicated installers, and the ever changing demands of a growing market. It is the best of what we are," says Wade Beebe, Technical Supervisor at Firstech.
7-Series control modules feature increased hardware capacity and flexibility for installing remote start onto a wide range of vehicles. New for both the 7AS and the 7S control modules are the three jumper-selectable high current outputs, which change the output functions for flexibility. In addition, a dedicated low-current output port allows for a simplified installation with fewer connections for low current vehicles. Lastly, Firstech has added an additional RS232 2-way data port that supports protocols for iDatalink, Fortin, and the company's telematics solution, DroneMobile.
Other changes to design and functionality were implemented based on customer feedback. "Installers were looking for an easier way to eject the BLADE cartridge and we were able to improve this aspect through design," notes Daniel Fellers, Eastern Regional Sales Manager. The 7AS and 7S control modules now feature a dedicated BLADE release switch built into the housing.
The 7-Series modules are available now for all authorized Compustar, Arctic Start, and DroneMobile dealers.
To find out more about 7-Series by Compustar, please visit http://www.compustar.com/7 or contact your direct/regional sales representative.
Compustar is a brand of Firstech, LLC. Firstech was founded in 1997 to provide the industry's most innovative aftermarket automotive technologies, backed by unmatched customer service. Compustar aftermarket automotive products focus on vehicle remote start and security solutions.
###
If you would like to schedule an interview with a marketing representative, please email marketing(at)compustar(dot)com.