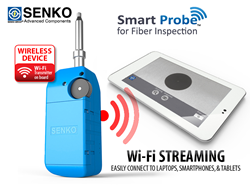 Fiber Inspection Made Easy
(PRWEB) March 03, 2014
The Smart Probe is an ergonomically designed, compact, Wi-Fi probe for smart phones, tablets and laptops/PCs. Featuring integrated Wi-Fi module and left/right handed thumb or finger operation for greater ease of use and convenience. Incorporating high resolution sensor outputting 960 x 544 pixel resolution images at 16:9 aspect ratio, the Smart Probe can easily view two MT/MPO fibers rather than just a single fiber. The App, available from Google Play, includes digital zoom and still capture capabilities. For more info http://www.senko.com/smartprobe.
Features:

True completely wireless probe.
Integrated Wi-Fi module.
Highly compact easy to use design.
Left or right handed thumb/finger operation.
16:9 Widescreen aspect ratio with 457µm x 259µm Field-of-View to view multiple MT/MPO fibers.
328x magnification based on 7" tablet screen.
Free Smart Phone/Tablet app with digital zoom and still capture functions.
Tips for all common connector types for both patchcord and patch panel inspection.
For more info http://www.senko.com/smartprobe.