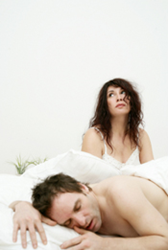 Oral appliances are an effective tool which can help patients in the management of their sleep breathing problems and thereby achieve a better night's sleep.
Tequesta, FL (PRWEB) March 05, 2014
There is a not-so-silent killer in this country, and most who are vulnerable to it, don't even know. Snoring is more than an annoyance. It's both a symptom and a condition that signals serious, potentially deadly, health problems. Doctors estimate that 9.1% of men and 4% of women have sleep apnea. That translates to 18 - 25 million Americans. Regretfully, as few as 5% have been diagnosed.
Snoring Isn't Sexy is working with member dentists this week to help spread the word about the dangers of undiagnosed and untreated sleep apnea. Don't ignore the snore!
In the condition known as obstructive sleep apnea (OSA), the throat can close leading to cessation of breathing. Apnea is defined as "a cessation of airflow for at least 10 seconds." This can occur dozens and sometimes even hundreds of times an hour.
Typically, someone with obstructive sleep apnea will snore heavily, then stop breathing. The bed partner will observe that the person struggles to breathe but there is no snoring sound. These periods of lack of breathing are followed by sudden attempts to breathe often accompanied by a gasping or choking sound. The person with OSA will partially awaken leading to fragmented, non-refreshing sleep which can be the cause of excessive daytime sleepiness.
Snoring and OSA go hand-in-hand, and can lead to heart disease, stroke, Alzheimer's, diabetes, obesity, high blood pressure, and accidental injury. Dentists can work in conjunction with your physician to offer a possible solution in the form of an oral appliance. Many patients who suffer from snoring and OSA cannot tolerate CPAP (Continuous Positive Airway Pressure) machines; likewise they have decided against surgery, which is irreversible
"The majority of patients with sleep apnea are prescribed CPAP Therapy, which is a very good, very predictable solution," says Dr. Nancy Addy, member of the American Academy of Dental Sleep Medicine and Snoring Isn't Sexy member. "Unfortunately, numerous people are unable to tolerate CPAP. For these individuals, oral appliance therapy provides a comfortable, effective, FDA approved treatment alternative. Oral appliances are an effective tool which can help patients in the management of their sleep breathing problems and thereby achieve a better night's sleep."
Patients who snore or who need an alternative to CPAP, are encouraged to visit SnoringIsntSexy.com today to learn more about oral appliance therapy and find their nearest sleep apnea dentist.
About Snoring Isn't Sexy
Snoring Isn't Sexy, a unique public awareness resource that seeks to educate the general public about sleep disordered breathing, provides up to date information about sleep apnea and the variety of treatment options available.
Snoring isn't Sexy is committed to the welfare of patients who use our services to find a dentist who provides oral appliance therapy for obstructive sleep apnea. The dentists associated with Snoring Isn't Sexy dentists adhere to the protocols of the American Academy of Sleep Medicine and believe in a team approach to treating patients.