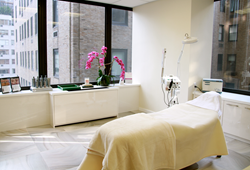 There is a major difference between medical grade and holistic skincare.
New York, NY (PRWEB) March 06, 2014
Not all beauty treatments are created equal. Although many beauty treatments promise to deliver great results, when overused it can create serious skin irritation. There is definitely truth to having too much of a good thing.
1. Microdermabrasion
Microdermabrasion used to be a very popular treatment, touted to resurface the skin and treat a variety of issues. However, these days we have much smarter and gentler technology when it comes to improving the tone and texture of the skin. Microdermabrasion is too harsh and irritating for most skin types, and can lead to scarring, hyperpigmentation, and small broken blood vessels. Instead, we recommend using a gentle RetinA-containing product at night, which chemically exfoliates the skin and increases the rate of cell turnover. Other treatments like Clear + Brilliant laser and IPL, or photofacials, can also help improve uneven skin tone and brown spots, but are much gentler than microdermabrasion, and more specific for the results you want to achieve.
2. Spa Facial
Clients wanting to try the newest spa services should proceed with caution, especially when having spa facials. Experimenting with different skincare lines when trying different spas can cause serious irritation. There is a major difference between medical grade and holistic skincare. Spa facials usually include highly fragranced oils, products, and masks that are massaged into the skin. A deep cleansing facial means that these products penetrate the skin even deeper. Although these kinds of products smell heavenly, they can cause major irritation, especially in those with sensitive skin, as well as allergic reactions and acne breakouts. We recommend having facials at medical spas, where they use medical grade products and you can discuss your skincare concerns and treatment plan with a dermatologist and an experienced esthetician.
3. Over-using your Clarisonic
The Clarisonic is a great exfoliating tool, but it's not for everyone. The company suggests using the device twice a day, but you should really be using it once or twice a week at most. If used too frequently, it can be very irritating to the skin, especially when using retinols, AHA's and exfoliators in combination. We have a protective barrier on our skin for a reason, and too much exfoliation can disrupt it, leading to a variety of skin problems. In those with fairer skin, the manual exfoliation can cause small broken blood vessels to form, which can be a permanent problem. Exfoliation is important, just remember that moderation is key to having healthy, beautiful skin.
For more information about Julie E. Russak, M.D., and Russak Dermatology Clinic, visit russakdermatology.com or follow her practice on Facebook and Twitter (@RussakDerm). To interview or make an appointment with Dr. Russak, contact Juliet Cavallaro at juliet(at)russakdermatolgy(dot)com or (646) 873-7546.
About Julie E. Russak, M.D.
Dr. Russak is a board-certified dermatologist, a Fellow of the American Academy of Dermatology, and a member of the American Society of Dermatologic Surgery. She graduated with honors from New York University School of Medicine and completed her dermatology residency at the Dartmouth Hitchcock Medical Center, where she served as chief resident. She completed an Oncology Melanoma Fellowship with world-renowned melanoma expert Darrell Rigel, M.D., and is the recipient of the Marianne Salzberg Award in Dermatology and the Jonas E. Salk Scholar Award. In addition to having a thriving practice, she is an assistant clinical professor at Mount Sinai Hospital, where she teaches dermatology residents and medical students.