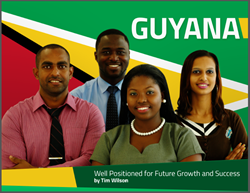 Guyana offers high-quality services in native English at prices that match or beat India and the Philippines, and this report offers a thorough overview of Guyana as an outstanding emerging market.
Georgetown, Guyana (PRWEB) March 04, 2014
Qualfon, a leading business process outsourcing (BPO) and call center service provider, is highlighted in a new report about Guyana's strong potential for future business outsourcing growth. The report was recently published by Nearshore Americas (http://www.NearshoreAmericas.com), a news organization known for its outsourcing industry analysis.
The Nearshore Americas ebook suggests the next big business process outsourcing (BPO) investment opportunity is hiding in this largely unknown country, which faces the North Atlantic at the top of South America. Qualfon is featured as one company that has recognized Guyana's potential and is leading the local BPO industry by building one of the world's largest contact center campuses in Guyana's capital city.
In the report, Nearshore Americas explores this native-English-speaking country, calling it a "land of opportunity" and describing it as a "desirable outsourcing location" with the "right people and the right tools." In addition to explaining why the labor market dynamics favor outsourcing, the publication helps companies get familiar with this Guyana's British heritage and its government-backed business incentives.
Get the FREE ebook (no registration required):
Guyana: Well Positioned for Future Growth and Success
http://www.nxtbook.com/nxtbooks/nextcoast/guyana/
"Many large U.S. companies are currently reconfiguring their outsourcing operations and looking for competitively priced locations to replace or augment their current global footprint," said Bob Dechant, Chief Sales and Marketing Officer at Qualfon. "Guyana offers high-quality services in native English at prices that match or beat India and the Philippines, and this report offers a thorough overview of Guyana as an outstanding emerging market. We at Qualfon are extremely bullish on Guyana."
About Qualfon
Qualfon has a strong track record of customer service and back-office processing growth with experienced business processing outsourcing (BPO) leadership. We have been serving our BPO clients since our founding in 1996, and today, we are 10,200 employees serving an international base of clients. Qualfon operates in the Philippines, Guyana, Mexico, the United States, and China. Our mission is "Be the Best BPO. Make People's Lives Better." Qualfon invests in the well-being of our people who, in return, are taking better care of customers, clients, and our communities. Our employee tenure is twice the industry average, which enables us to offer highly skilled and highly engaged people that provide a better customer experience. In addition, our lower employee attrition and strategic locations enable us to provide our services at a lower cost. http://www.Qualfon.com