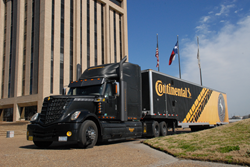 Fort Worth, TX (PRWEB) February 28, 2014
On Wed., Feb. 26, Continental Tire visited the Apex Capital offices in Fort Worth to introduce its promotional truck, featuring Continental's commercial vehicle tires, to all Apex employees and local clients. Continental explained the features of their commercial truck tires, educated employees and clients on how tires affect fuel efficiency, and discussed Continental's tire pressure monitoring systems.
Apex recently announced Continental as its newest industry partner, effectively providing all Apex clients with a special discount on Continental and General Tires. To celebrate this announcement, Apex launched a giveaway on their website, where clients could enter to win a set of Continental or General steer tires and service. The winner will be announced in the coming weeks.
Continental Tire has the largest selection of SmartWay verified® tires and recently released its HDR1 Eco Plus ContiTread™ retread tire, the first open shoulder drive position retread to be verified by SmartWay, according to Continental engineers.
For more information on Apex's new Continental Tire Program, visit http://www.apexcapitalcorp.com/advantages.