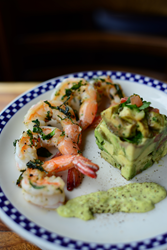 Duke says, 'We call these Piñata Prawns because they explode with flavor as they pass over your taste buds. They are so tasty, people often say, 'they're to die for.' But that's just an expression. We like to say, 'they're to live for.''
Seattle, WA (PRWEB) February 28, 2014
From now until April 15, Duke's Chowder House of Seattle is featuring their popular Mexican White Prawns (aka "Piñata Prawns") on their special fresh sheet menu – a carefully crafted menu that highlights new seafood items in the restaurant. The restaurant is preparing the prawns 10 different ways for a variety of mouth-watering menu choices, including the Grand Marnier Prawns with a hint of orange, the Wild Mexican Prawns Chimichurri and the Prawns Del Cabo (a dish that loyal customers have been demanding to bring back since it was offered last year).
Everything Duke's Chowder House serves is natural, nutritious, wild and healthy – and these popular Piñata Prawns are no exception. Harvested from the Sea of Cortez by local fishermen, the large wild prawns are unlike any other prawn on the market. After carefully tasting dozens of different prawns over the years, owner Duke Moscrip knew he had found something special after just one bite of these Mexican White Prawns. When he first encountered them in Mazatlán, Mexico, Duke couldn't stop thinking about a way to get them to his restaurants in Seattle, thousands of miles away.
"Trying to find just one species of shrimp out of virtually thousands is no easy undertaking. It took a while but they are now on the table at Dukes. These are the best tasting prawns I have experienced in my 42 years in the restaurant business," Duke says. "We call these Piñata Prawns because they explode with flavor as they pass over your taste buds. They are so tasty, people often say, 'they're to die for.' But that's just an expression. We like to say, 'they're to live for.'"
Duke is a self-proclaimed "seafood sleuth" who is well known for his detailed sourcing of Copper River Coho Salmon, Alaska Weathervane Scallops and Dungeness Crab from the Washington and Oregon Coast. He is thrilled to once again introduce these pristine wild prawns on the menu this year at all of his restaurants. What makes these Piñata Prawns so special? These clean, snappy prawns owe their wow factor to both inherent characteristics and to proper processing and handling once they are caught. Inferior imported prawns, or shrimp, are often sold with the heads intact, which deteriorates the quality of the flesh and causes them to have an undesirable iodine taste. These superior Mexican White Prawns are beheaded, graded, processed and frozen immediately after they have been harvested and then shipped frozen in the shell. They boast a clean shrimp flavor and a firm snappy texture when cooked.
To view the full Duke's Chowder House menu, click here.
About Duke's Chowder House
Duke's Chowder House is an upscale-casual Pacific NW seafood concept known for its award-winning chowder. Owner Duke Moscrip, now joined by his son and partner John Moscrip, continues on his passionate 37 year journey to source wild, all-natural and sustainable seafood. Duke pioneered the concept of "ice chilled, better than fresh." Duke's, with six locations, offers healthy and fresh ingredients, free of hormones, antibiotics or harmful chemicals. Duke's is a comfortable and friendly gathering place. Duke's has also recently earned a 4.5 grade (Blue Fish rating) out of 5 by Fish2Fork, a leading evaluator of seafood restaurants. This is the highest seafood restaurant rating in the State of Washington. For more information, visit http://www.dukeschowderhouse.com.
For additional information, contact:
Tamara Wilson
1-206-409-6735
tamaraw(at)tamarawilson(dot)com