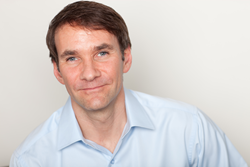 Las Vegas, NV (PRWEB) March 04, 2014
Call Center Week is pleased to reveal the highly anticipated surprise Keynote Speaker scheduled to host a special session during the 2014 conference. This year the spotlight is on Keith Ferrazzi, Founder and CEO of Ferrazzi Greenlight and author of two New York Times' bestselling business books. Attendees will have the opportunity to hear Ferrazzi speak on "Developing the Relationships Vital to Your Success in a Virtual World" as well as meet the widely recognized CEO during a book signing for the new edition of his book "Never Eat Alone". The session will be held on Thursday, June 12 at 10:30am.
Ferrazzi, recognized as one of the world's most "connected" individuals by Forbes and Inc., is one of the rare individuals to discover the essential formula for reaching the top of an industry. As Founder and CEO of Ferrazzi Greenlight, he provides market leaders with strategic consulting and training services to increase company sales and enhance personal careers. Prior to Ferrazzi Greenlight, he was the youngest person to make partner and hold the position of Chief Marketing Officer at Deloitte Consulting.
Also a bestselling author, Ferrazzi published "Who's Got Your Back?" as well as the new edition of "Never Eat Alone" that will be featured during Call Center Week. The new edition will be available for purchase before the conference on Monday, June 3. He has authored articles for Forbes, Inc., The Wall Street Journal, the Harvard Business Review and Reader's Digest as well.
In his keynote presentation during Call Center Week, Ferrazzi will discuss his long-established practices around changing organizational behavior and deepening relationships at more than a dozen Global 500 companies. He will describe how to more effectively manage the relationships that will help you meet strategic objectives and overcome challenges.
"We are excited to have Keith Ferrazzi as part of the speaker faculty for Call Center Week this year," said Lisa Schulman, Executive Producer of IQPC's Call Center Week. "His personal experience and extensive knowledge of marketing and branding will deeply influence attendees and leave them with unique ideas, new strategies and a fresh outlook on themselves and their businesses."
Register TODAY to meet Keith Ferrazzi and experience everything else Call Center Week has to offer. To register please visit http://www.CallCenterWeek.com or call 1-800-882-8684. For more information, download the agenda at http://bit.ly/1hTwc3O.
About IQPC:
IQPC produces 1,500 global events that are custom-tailored to the unique needs of business executives. Founded in 1973, IQPC leverages an office network that spans six continents and a wealth of intellectual capital to provide an unparalleled portfolio of conferences and seminars. For more information, please visit http://www.iqpc.com
Contact:
Gahwui Kim
Senior Marketing Manager
646-502-3266
Gahwui.kim(at)IQPC(dot)com