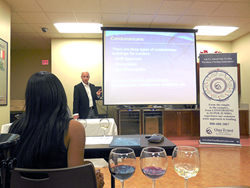 San Diego, CA (PRWEB) March 03, 2014
OneTrust Home Loans, a direct mortgage lender and servicer of San Diego, California announced today the hiring of Eric Mitchell. Mr. Mitchell joined the mortgage business in 1999 and has been a national trainer in the industry for several years. Most recently, he was the Senior Vice President of Business Development for a California lender, Priority Financial Network, for four years. His marketing systems facilitated that company to grow 400% during that time.
"I joined One Trust Home Loans," states Mr. Mitchell, "because I see a Company committed to cutting edge technology, systems and accountability. Understanding the future of the mortgage industry and knowing that most companies resist the change needed to move forward into the next phase of mortgage lending, made me realize the importance of my switch to OneTrust Home Loans. The lending industry is transforming as technology continues to favor those that embrace change. Compliance is an issue that most companies are ignoring. The systems at OneTrust allow transparent accountability ensuring all clients are treated fairly and efficiently."
The hiring of Mr. Mitchell allows OneTrust Home Loans to leverage relationships with real estate agents through a variety of initiatives under Mr. Mitchell's leadership. Eric's unique workshops are designed for realtors and loan originators that want to take their business to the next level. OneTrust Home Loans is helping strategic realtor partners with the ability to inform and help underwater homeowners know they have financial choices. Through Mr. Mitchell's presentation seminars, OneTrust helps with target marketing and homeowner listing appointments based on the unique ability to generate interest from underwater homeowners to list their home and let them know they have options because they owe more than their home is worth.
"Anything you can do in a highly competitive environment like today's mortgage climate that stands out from other lenders is a good thing," say Josh Erskine, the CEO of OneTrust Home Loans. "We help prevent foreclosures and help our local neighborhoods recover. We recognize the very important role real estate professionals play in the short sale process and we want to work closely with them to get short sales achieved. As a direct lender, we need our realtor partners to take these appointments by taking the first step and registering for an upcoming event in their area at http://www.OneTrustHomeLoans.com/seminar.
About OneTrust Home Loans and OneTrust Senior Lending
OneTrust Home Loans is a direct lender and servicer with sales and operations across the country. OneTrust Home Loans provides an array of product options including conventional, FHA, VA, USDA, jumbo, resort lending, and foreign national loan options. OneTrust Home Loans is focused on strategic national growth without compromising its market niche of fast and efficient loan closings and being a home-buying resource for consumers from their search for that special home through closing. OneTrust Senior Lending exclusively offers reverse mortgage products to Seniors 62 and over who need access to their home equity while maintaining homeownership. The company's senior management team has years of experience in successful loan closings. OneTrust Home Loans and OneTrust Senior Lending emphasize customer service as evidenced by their tagline, Service is everything! For additional information please visit http://www.OneTrustHomeLoans.com and http://www.OneTrustSeniorLending.com.