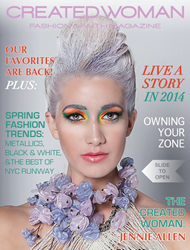 "Print wasn't reaching that many people. Financially, the digital experience was the best solution so that we could bring the same product in a more interactive way." - Founder, Heather Frierson
Austin, TX (PRWEB) February 28, 2014
A woman of unwavering faith and fashionable tastes, Heather Frierson has combined both her passion for the fashion industry and her ministry work into Created Woman, an online fashion magazine dedicated to "becoming the woman you were created to be". Recently FashionMingle.net interviewed Frierson after the launch of the new digital version of her magazine to ask what she's learned about building an online magazine business.
In the article Frierson gives readers the 5 tips she thinks has been integral to the successful launch of her magazine. Frierson believes that finding your focus and combining your passions in a way that is real and relevant is the first step to launching a fashion magazine. "I had been in the fashion industry managing retail for years but had started working at my church when the idea came to me," says Frierson.
Understanding the challenges of financing a business is something Frierson and her supportive husband took seriously. They understood that it was going to take a personal investment to finance the business and have found creative ways to raise money through advertising and events. Their upcoming March 23rd event, Style Speaks, will feature spring fashions, shopping, a panel discussion, giveaways and more as a way to develop a stronger brand identity and build awareness for the magazine in it's home city of Austin, Texas.
Created Woman started out as a print publication featuring dramatic fashion photography and inspiring articles, but, Frierson explained, print wasn't reaching that many people. "Financially, the digital experience was the best solution so that we could bring the same product in a more interactive way," explained Frierson.
In the video interview on FashionMingle.net, Mrs. Frierson shares her struggles and successes in an indepth interview that goes into detail about how she formed a team to help her launch the magazine and the challenges and changes that have led to it's success.
About FashionMingle.net
FashionMingle.net is a network for fashion entrepreneurs to share, discover, and mingle. The business directory and social network creates a PR platform for fashion entrepreneurs to promote their services and grow their business. More information can be found at FashionMingle.net.