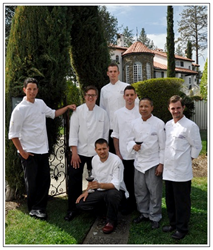 Oakhurst, CA (PRWEB) March 04, 2014
Central California's only 5-star restaurant, Erna's Elderberry House, is hosting a 3 day cooking class with their talented Kitchen Team. Erna's Elderberry House Restaurant is the Central California and the Yosemite Region's Premiere Hands-On Cooking School.
This exemplary culinary experience will be held March 5th, 6th, and 7th, 2014. Participants will be hands on at the stove, wearing a Chef's jacket and cooking with amazing chefs at the Erna's Elderberry House Kitchen. For wine lovers, For the Love of Wine' seminar is scheduled for the third day.
"Deserving" graduates receive a beautiful hand colored diploma to proudly display in their own kitchen and a cookbook with all of the recipes presented during the class. For those only interested in wine, the Wine Seminar is offered by itself.
All items in the menu are made fresh in-house. Ingredients are sourced locally, many from the Vineyard Farmer's Market in Fresno. "We pride ourselves on choosing the freshest, local ingredients. Our chef works diligently to ensure only the best goes in to each and every meal," said Berg.
Erna's Elderberry House was opened in 1984 and has quickly gained a reputation for the highest quality. Proprietor Erna Kubin-Clanin then followed it by opening the attached Chateau du Sureau, a five-diamond property and one of only 11 properties in California, and 34 nationwide, worthy of inclusion in the prestigious Relais & Chateaux guide.
For pricing or to learn more, visit http://www.ElderberryHouse.com.