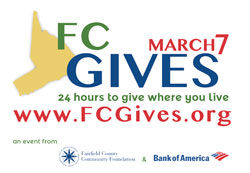 Norwalk, CT (PRWEB) March 03, 2014
Fairfield County Giving Day is an initiative to increase philanthropy in Fairfield County, Connecticut through a targeted, 24-hour period of online giving. Presented by the Fairfield County Community Foundation and funding partner Bank of America, Fairfield County Giving Day will take place on Friday, March 7.
The goal is to raise $1 million to benefit hundreds of local nonprofit organizations over a 24-hour period.
Through a fast, easy and secure online donation website, you will be able to search for local nonprofits and make donations to support their work.
What's more, with your gift – whether $10 or $100, or more – you will be helping these nonprofits compete for prizes and matching funds.
To participate, go to http://www.FCGives.org.
Since 1975, TFI Envision, Inc. of Norwalk, CT, has specialized in developing strategic design and marketing solutions for branding, packaging, promotion, digital and corporate communications; helping organizations achieve their marketing and communication goals with compelling, consistent messaging that is on brand and on target.