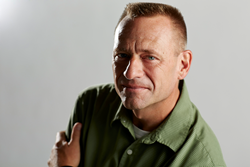 "We'll examine how newly optimized typefaces designed for the Web and e-reader environments can help improve the reading experience." - Steve Matteson of Monotype
Austin, TX (PRWEB) March 04, 2014
Steve Matteson, Monotype's creative type director, together with Blair Brown, associate director of design at Pearson Education, will present "Type 3.0: Intelligent Type for Publishing" as part of a panel discussion at the 2014 South By Southwest® (SXSW®) Interactive Conference and Festival, March 7-11, 2014, in Austin, Texas. From user experience to immersive reading, Steve and Blair will discuss the latest practices in choosing the right typefaces and layout to optimize a reader's digital experience. The presentation takes place on Tuesday, March 11, 2014, at 11:00 a.m. in the San Jacinto Ballroom at the Four Seasons Hotel Austin.
"Typefaces give form to language. Everyday correspondence, the news, advertising or the next best-selling novel carry a message that can be enhanced by choice of typeface," said Matteson. "We'll examine how newly optimized typefaces designed for the Web and e-reader environments can help improve the reading experience, and discuss how various technologies impact high quality typography."
Thanks to the proliferation of handheld and wearable devices, digital readers can expect to scan more content on less real estate.
"Our content is fast-forwarding to screens that have higher and higher resolution on displays that in essence have put a magnifying glass over our content and choices we make on how to deliver it," said Brown. "At the same time, the technology that helps us make these choices has advanced rapidly. We will examine what this means for designers who have had great fonts ready to use all these years, but no real technology support in which to play around with them."
Attendees will explore:

Technologies that make designing with fonts easier
Key factors that influence type selection
What makes a typeface better for reading on screen
Incorporating fonts into various digital mediums, including the Web and e-readers
To learn more about choosing the right fonts for the Web and e-readers, see Steve's article, Choosing the Right Fonts for e-Text. For more information about SXSW, visit http://sxsw.com/.
About Monotype
Monotype is a leading global provider of typefaces, technology and expertise that enable the best user experience and ensure brand integrity. Based in Woburn, Mass., Monotype provides customers worldwide with typeface solutions for a broad range of creative applications and consumer devices. The company's libraries and e-commerce sites are home to many of the most widely used typefaces – including the Helvetica®, Frutiger and Univers® families – as well as the next generation of type designs. Further information is available at http://www.monotype.com.
Monotype, Helvetica and Frutiger are trademarks of Monotype Imaging Inc. registered in the U.S. Patent and Trademark Office and may be registered in certain jurisdictions. Univers is a trademark of Monotype GmbH registered in the U.S. Patent and Trademark Office and may be registered in certain jurisdictions. South By Southwest and SXSW are trademarks owned by SXSW, LLC. All other trademarks are the property of their respective owners. ©2014 Monotype Imaging Holdings Inc. All rights reserved.