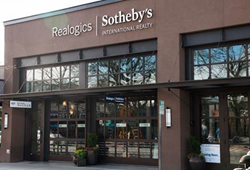 The vision for Kirkland is to be an attractive, vibrant and inviting place to live, work and visit and as I toured the Connoisseurs of Life Showroom I was experiencing this very doctrine come to life. - Amy Walen, Kirkland Mayor
Kirkland, WA (PRWEB) February 28, 2014
Representatives of Realogics Sotheby's International Realty announced today their Grand Opening of their new Eastside branch office located 15 Lake Street in downtown Kirkland. The brokerage firm also includes an in-house, preferred lender relationship with Cobalt Mortgage and a retail partnership to showcase select furnishings and artwork from Masins, Alchemy Collections and The Island Gallery. Previously announced this week, their retail storefront will also feature a wine bar and retail wine shop operated by DeLille Cellars called "Maison DeLille", an installation of custom light fixtures by LightArt®, an audio-visual presentation by Wipliance and exclusive residential opportunities represented by Realogics Sotheby's International Realty.
"We are proud to offer our brokers and clients immediate access to these fine services, products and works of art from our in-house retail partners," said Stacy Jones, Owner and Vice President of Realogics Sotheby's International Realty. "It's also a convenient opportunity for our customers to experience a convergence of lifestyle brands all while sampling fine wines and exploring beautiful homes for sale – what's not to love? We each target a very similar psychographic consumer profile, which we affectionately refer to as the connoisseurs of life."
The 3,200 sq. ft. facility is set to open to the public on March 1, 2014. In addition to viewing the furnishings and art on display consumers will be provided catalogues from each retail partner within what's dubbed the "Connoisseurs of Life Showroom."
The Kirkland branch of Realogics Sotheby's International Realty is opening with 36 licensed agents and accepting interviews for additional broker recruits. Chad Zinda is appointed the Designated Broker & Director of Sales and Shelley Cribby is the Director of Eastside Operations. The broker collective will specialize in Eastside real estate but will also proudly service all property types and price points in the Puget Sound metro area and out of state through strategic referral networks.
The private preview events have already drawn praise from local leaders in the Kirkland community.
"We extend a warm welcome to Realogics Sotheby's International Realty," said Amy Walen, Mayor of The City of Kirkland. "The vision statement for Kirkland is to be 'an attractive, vibrant and inviting place to live work and visit' and as I toured the Connoisseurs of Life Showroom I was experiencing this very doctrine come to life."
Similar praise was drawn from corporate executives attending the opening events from the global real estate network based in New Jersey.
"Realogics Sotheby's International Realty has raised the bar again in conceiving the Connoisseurs of Life Showroom," said Fran Santangelo, Senior Vice President for Global Operations of Sotheby's International Realty Affiliates, LLC. "This fine company is well positioned to grow their enterprise with new brokers, especially considering their unique relationships with our other affiliates in Pacific Rim countries. The Kirkland branch office is an exciting addition to our growing footprint in Washington State."
Sotheby's International Realty Affiliates, LLC now oversees 661 branches in 45 countries and territories around the world including the newest arrival of the Kirkland branch office. Comprising 14,460 brokers worldwide representing more than 36,000 listings, the Sotheby's International Realty Brand has become a leader in global real estate excellence.
About Realogics Sotheby's International Realty: As the leading global realty in the Pacific Northwest, Realogics Sotheby's International Realty operates branch offices in downtown Seattle, Bainbridge Island and downtown Kirkland. Ranked two years in a row among the "Fastest Growing Private Companies" in Washington State by the Puget Sound Business Journal, the collective of more than 80 brokers proudly represent buyers and sellers of all property types and price points. Award-winning marketing, extraordinary brokers and a truly global network have combined to generate exceptional sales success one client at a time. Visit RealogicsSothebysRealty.com.
Editors Notes: For high-resolution photography of the venue, images or video of the principals referenced above, please contact Andrea Savage at 206.448.5752 or email Andrea.Savage(at)SothebysRealty(dot)com.