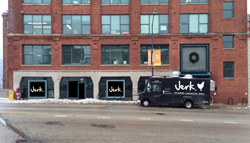 We are truly grateful for everyone's support over the past year and are looking forward to an incredible 2014.
Chicago, IL (PRWEB) March 03, 2014
TGL Group announced today that it will open its first Jerk. Modern Jamaican Grill restaurant in the River West neighborhood of Chicago. While the opening marks the first retail location, Jerk has been serving Chicagoans with its food truck since March 2013.
The 3,000 square-foot restaurant, located at the intersection of Chicago Ave and Halsted in the River West neighborhood, is scheduled to open in June 2014. Customers can expect a fast & casual experience with a Jamaican inspired menu that will include all of their favorite items from the food truck. The retail location will also carry specialty items that can only be found at its retail location. TGL Group looks to also operate a cafe at the location to serve gourmet coffee and breakfast pastries in the morning.
Jerk plans to continue operating its food truck and Chicago catering services this spring at various locations and events throughout the city.
About Jerk. Modern Jamaican Grill
The menu of Jerk is inspired by "pushcart" Jamaican street-food with a touch of modern flare. Customers can expect to find delights such as Jerk Chicken prepared in our Rude Boy sauce, Jerk fries, festival, various patties and more.
About TGL Group
Founded by Dion Solano and Brett Gough in August 2012. TGL Group made history in 2013 by becoming the first licensed Chicago food truck to cook on board with propane. The truck has been seen at locations and events across the city last year including the Taste of Chicago.
Related Information:
Website: Jerk312.com
Twitter: @Jerk312
Facebook: FB.com/Jerk312