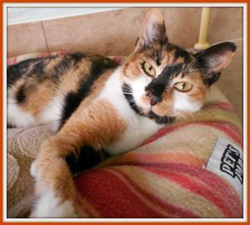 These kinds of life-saving programs work.
Merritt Island, Florida (PRWEB) March 03, 2014
The stories are true: they are fluffy, furry, cute and cuddly – and they are coming to the Merritt Square Mall! "They" are adoptable cats and they are just waiting to get the chance to woo unsuspecting shoppers with their feline charm, so that they can find the loving homes they deserve.
The newest adoption center, located in Merritt Square by the Ruby Tuesday mall entrance, is scheduled to open on March 15th. The grand opening also coincides with the start of the Cash for Your Cause event at the mall to raise funds for Operation Shopping Paws and other non-profits.
This will be the second satellite cat adoption center located in a mall for the SPCA of Brevard. The first location, at the Melbourne Square Mall, began as a one-month adoption promotion for the holidays, but has been so successful that a new lease agreement was made, allowing it to become a permanent store there. There have been more than 300 adult cat adoptions from that location alone since opening on Black Friday, three months ago. To put that in perspective, during the entire previous fiscal year, the SPCA had a total of 236 cat adoptions! Due in large part to the success of the Melbourne adoption center, the SPCA has saved 288 cats so far this fiscal year-to-date from Animal Services in comparison to just 67 cats during the same time period last year.
"We are excited by what opening a second mall adoption center means for cats in Brevard County," explains Patrick Fox, SPCA Executive Director. "Out-of-the-box programs like having mall adoption centers, the mega adoption events and the weekend flea market adoption events that County volunteers are doing are making a huge difference in reducing the number of animals killed at the County shelters. Brevard Animal Services' live release rate for January 2014 was 72.5%; the live release rate for January 2013 was 66.8%. These kinds of life-saving programs work and already are making an impact in our community."
For more information, contact Patrick Fox at 321-362-0590 or Susan Naylor at 321-501-7696.
SPCA of Brevard
455 Cheney Highway
Titusville, Florida 32780
321-267-8221
http://www.spcabrevard.com
Merritt Square Mall
777 E. Merritt Island Causeway
Merritt Island, FL 32952
###
About SPCA of Brevard
The SPCA of Brevard is a private, non-profit organization with the mission of "protecting and providing a voice to the homeless animals of Brevard County." Founded in 1979 in Titusville, Florida, the SPCA is the largest private no-kill animal rescue group in Brevard, finding homes for more than 1,300 animals a year. It is the first adoption facility with free-roaming cat rooms in the County, allowing adopters to interact with the cats in a more home-like setting. The SPCA of Brevard Clinic also provides reduced-price vaccines to the public and has performed more than 50,000 low-cost spay/neuter surgeries since 1999.
See the attached "SPCA of Brevard Statistics and Information" sheet for more information or visit http://www.spcabrevard.com.