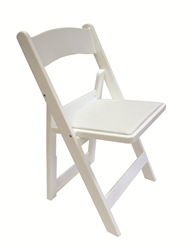 Product testing ensures reliability and has become a hallmark of Vision Furniture.
Philadelphia, PA (PRWEB) March 11, 2014
Special event seating industry leader, Vision Furniture International, announces the launch of a new product: their new and improved White Resin Folding Chair. This chair is manufactured entirely in the USA and is the most reliable Resin Folding Chair on the market. Vision Furniture has done extensive furniture testing on not only their products but also those of their competition and Vision's Resin Folding Chair exceeds all of the BIFMA 5.1 standards.
"Product testing ensures reliability and has become a hallmark of Vision Furniture as our clients demand safe and reliable seating at a fair price," said Vision Furniture owner, Anthony Tokarchyk. "When studying the Resin Folding Chair market the findings are startling as the marketplace is full of cheap folding chairs that do not come close to meeting BIFMA 5.1 testing standards," says Tokarchyk, "most striking is that the test requires 300lbs to be dropped from 6" and almost all of the samples other than the Vision Furniture chair broke at 200lbs – 225lbs on the first drop, and the test requires 2 drops."
With over a decade's worth of experience in the special event seating business, Vision Furniture has learned to adapt and improve their products in order to produce the most safe and reliable chairs and accessories. With higher quality resin and American craftsmanship, this Resin Folding Chair is top of the line, surpassing all of the competition in furniture testing.
Highlights of the New Resin Folding Chair:

Passes all BIFMA 5.1 Safety and Durability tests ensuring long term reliability
UV resistant for outdoor use
Pure Virgin Resin with no fillers means a stronger frame
Stays cleaner, longer with a smooth finish
Lightweight and Stackable
About Vision Furniture International
Founded in 2003 by Anthony Tokarchyk, Vision Furniture is a family owned and operated company with roots in special events seating. Vision's New Resin Folding Chair and handmade wooden Chiavari Chairs are the company's star products on their main site http://www.chiavarichairs.com. Vision Furniture has a focus on exceptional customer service and long-term product improvement. The company strives to make the most reliable and beautiful commercial seating products available and offer them at a fair price. To learn more call 215-695-3300 – you can also follow Vision Furniture on Twitter @VFurniture.