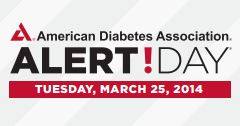 Diabetes slows healing and increases the risk of infection, and makes you prone to other mouth problems.
Minneapolis, MN (PRWEB) March 13, 2014
In recognition of American Diabetes Association (ADA) Alert Day, March 25, 2014, cbg|CONFIDENT is promoting dental hygiene tips along with the ADA's Diabetes Risk Test. The assessment is designed to help adults determine their predisposition for prediabetes or type 2 diabetes. cbg wants to increase awareness of the importance of oral health in connection to diabetes.
According to the American Diabetes Foundation, more than 26 million Americans have diabetes and close to 79 million are at risk for developing the life-long disease. While diabetes cannot be "cured," it can be managed with the correct treatment and recommended lifestyle changes which can prevent or delay the onset of complications.
Those with diabetes have increased levels of abnormal blood sugar that in turn, increases the likelihood of developing mouth infections, according to the American Academy of Periodontology. This correlation works in reverse as well; those with increased risk of gum disease can have a higher chance of complications of diabetes, heart attacks, strokes and ulcers.
"If you have diabetes, you have a higher risk of developing gum problems," says cbg's Muriel Otto. "But diabetes can also make you prone to other mouth problems including oral infections, fungal infections and dry mouth." Diabetes slows healing and increases the risk of infection.
In effort to educate and raise awareness to the link between diabetes and gum disease, cbg has outlined some dental health tips that can help reduce the risk of developing this life-long disease.

Brush and floss twice daily. Lack of brushing and flossing can cause swollen gums, which may release germs in to the bloodstream, contributing to clots and deposits in the blood vessels.
Use mouthwash products to combat germs and bacteria left behind after brushing and flossing. The germs in the mouth can contribute to the development of ulcers.
Remember to brush the tongue, which can also house bacteria.
Take this Risk Assessment provided by The American Diabetes Association to calculate risk for prediabetes or Type 2 diabetes.
Encourage your family and friends to participate in American Diabetes Association Alert Day by taking this simple test. Just answer a few quick questions about weight, age, family history and other potential factors. It only takes 60 seconds and it could save a life! Prediabetes may be treatable when detected early. You can lower your risk for diabetes by:
Losing 7% of your body weight (or 15 pounds if you weigh 200 pounds)
Exercising moderately (such as brisk walking) 30 minutes a day, five days a week
Following cbg\CONFIDENT's Tips for Proper Dental Care
To read more tips from cbg about maintaining healthy gums and teeth, visit http://www.shopindividualdental.com/oralhealth-diabetes/.
About cbg:
For more than 15 years insurance professionals, employer groups and individuals have turned to cbg for help with their dental insurance needs. We believe our role is to carefully evaluate the financial stability and reliability of the insurance carriers we partner with, develop highly competitive products and most importantly provide best-in-class customer service. My Generation also offers non-insurance discount plans, security and identity theft and tele-medicine. cbg utilizes state-of-the-art web systems, combining superior service with flexibility, to provide a unique experience to consumers and to its agent distribution partners. For an instant quote, visit http://www.shopindividualdental.com.