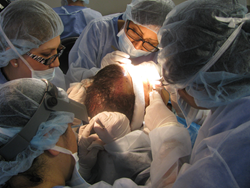 Los Angeles, CA (PRWEB) February 28, 2014
Los Angeles Hair Transplant Center of US Hair Restoration is offering special discounts for those who participate in the innovative Follicular Unit Extraction (FUE) Research Study being performed by Dr. Parsa Mohebi. The purpose of this study is to make viable comparisons of the benefits between the Strip (FUT) method and FUE method of hair transplantation. The survival rate, final hair quality, preserved volume overtime, and comparison of the overall success of the two methods will be observed and recorded. These findings will help deliver the most up-to-date techniques and technology for the field of hair restoration.
The study is expected to last between 14-18 months and requires full subject participation. Subjects who receive a hair transplant are required to attend six and twelve month follow-up appointments to evaluate final comparison results. Due to the amount of participation involvement with this study, the Los Angeles Hair Transplant Centers of US Hair Restoration will be offering a discount for those who wish to participate in the study. Dr. Mohebi feels that a discount is necessary to all patients for their involvement and commitment, "Our Los Angeles office is offering discounted hair transplants costs for all participants of this study for their time and involvement."
Each subject will receive 140 complimentary grafts that are required for the study. In addition to that, participants of the study will receive 40% off of the cost of hair transplant. Offering the affordable price for the hair transplants will motivate qualified hair transplant patients to participate in a timely manner "Those who have wanted to receive a hair transplant procedure, but were unable to afford it, now have the opportunity to take advantage of these remarkable discounted rates." Dr. Mohebi's offices in Encino, Beverly Hills and Orange County will be offering these discounted rates for a limited time.
About US Hair Restoration:
US Hair Restoration was established in 2008 by Dr. Parsa Mohebi. As creator of the several methods and techniques in modern hair restoration, Dr. Mohebi and his staff provide the most advanced techniques in hair restoration. Dr. Parsa Mohebi proudly provides services in the Beverly Hills, Encino, and Orange County hair restoration centers in order to better serve all patients. The overall goal at US Hair Restoration is to restore patient's self-esteem through the use of quality hair restoration.