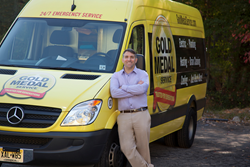 We've listened and adapted to the changing needs of customers, the industry and the environment, and I think we've stayed at the top because we've made that a priority
East Brunswick, NJ (PRWEB) March 10, 2014
Gold Medal Service, an award-winning heating, cooling, plumbing, electrical, and drain service company in New Jersey, has reached several milestones; it's celebrating its 20th anniversary and its success, earning nearly $23 million in 2013.
"It's hard to believe Gold Medal Service is celebrating its 20th year in business," said Mike Agugliaro, Gold Medal Service co-founder. "In some ways it seems as if we just started, and in other ways it's been a lifelong learning experience. I am extremely proud of all our employees and business partners, and I am so thankful for our customers - they are the true reason we have achieved such success."
From humble beginnings in 1994, with just Agugliaro and co-founder Rob Zadotti, Gold Medal Service has grown into one of the largest service companies in New Jersey with more than 120 employees and technicians, 100-vehicle state-of-the-art service fleet, and a modern, 15,000 square foot headquarters.
"We started out wanting to provide the highest quality service with the best technicians available at an affordable cost, while also creating the best internal management system in the industry," stressed Agugliaro. "Along with feedback from our customers, we've listened and adapted to the changing needs of customers, the industry and the environment, and I think we've stayed at the top because we've made that a priority."
Gold Medal Service provides a 24-hour emergency line staffed by knowledgeable employees and offers a website http://www.goldmedalservice.com packed with useful and current information. In addition, anyone can access Gold Medal Service's blog, which offers great tips for saving money and keeping homes running smoothly.
Gold Medal's staff also undergoes stringent background and security checks and always arrive in Gold Medal Service vehicles with uniforms and large photo-ID badges for your peace-of-mind. Customers also receive a written guarantee when work is completed.
Gold Medal Service provides homeowners with plumbing, heating, air conditioning, drain cleaning and other services and regularly receives the Super Service Award from Angie's List, a designation given to less than five percent of businesses that maintain a superior service record. Read some consumer reviews here to see what past (and current) customers think about Gold Medal Service: http://goldmedalservice.com/consumer-reviews/.
About Gold Medal Service
Gold Medal Service, rated A+ by the Better Business Bureau, was founded in New Jersey in 1994 with just two employees. Their vision was to provide homeowners with a reliable and trustworthy home service company customers could count on to fix just about anything that could go wrong in a home. Since then Gold Medal has grown to include more than 120 employees and technicians solving plumbing, heating, cooling, electric, drain, and sewer issues for homeowners across the state of New Jersey. Gold Medal Service is an Angie's List "Super Service Award" recipient. For more information, call 800-576-GOLD or visit http://www.goldmedalservice.com.