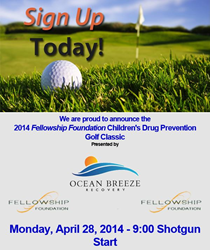 The Fellowship Foundation has made it a priority to help keep children from becoming addicted to drugs and alcohol.
Pompano Beach, Fl (PRWEB) March 03, 2014
Ocean Breeze Recovery is pleased to announce that it will once again be the lead sponsor in the upcoming Fellowship Foundation Children's Drug Prevention Golf Classic. The event, which will take place Monday, April 28, 2014, will be held at Parkland Golf and Country Club.
Funds raised from the golf outing will go directly to programs that work to prevent drug and alcohol abuse among children. Last year's event raised $26,000, which went to benefit groups such as Big Brothers Big Sisters, the Margate Police D.A.R.E. Program, and Margate/Coconut Creek Kiwanis Children's Programs. Event organizers are encouraging the entire community of Margate to help make this year's event an even bigger success through their donations and support.
The Fellowship Foundation is a non-profit organization that supports prevention and treatment programs for children and adults. It has been established by Fellowship Living Facilities, Inc., a treatment facility in southern Florida. The Fellowship Foundation works to save the lives of children through its support of prevention programs.
The Fellowship Foundation is asking other businesses and individuals to consider donating to the golf event in order to help more children. The Golf Classic will feature 18 holes of golf, exciting contests, and prizes. Participants will get to enjoy on-course food and beverages and a buffet lunch, followed by an awards ceremony, raffle, and silent auction.
To register for the Fellowship Foundation Golf Classic, or to be a sponsor, visit http://www.tournevents.com/ffgc2014
Ocean Breeze Recovery is once again the main sponsor of the Golf Classic. As in the past, the Pompano Beach treatment center is excited to be a part of the prevention and treatment of drug and alcohol addiction in the community. Anthony Cibene, Executive Director of Admissions at Ocean Breeze Recovery, is looking forward to another successful golf outing.
"The Fellowship Foundation has made it a priority to help keep children from becoming addicted to drugs and alcohol," said Anthony. "Far too many young people lose their lives to the disease of addiction, and it is important for us all to work together to save more children through prevention and also through treatment programs."
Ocean Breeze Recovery is a rehab center that helps individuals struggling with drug and alcohol abuse and co-occurring disorders. The center uses a 12 step philosophy to recovery, and incorporates Christian principles into its faith-based recovery program, but is open to clients of all backgrounds and religions. Located in Pompano Beach, Florida, the treatment center welcomes clients into a beautiful residential living facility where they can participate in group therapy, individual therapy, music therapy, yoga, and psychodrama therapy.
To learn more about Ocean Breeze Recovery, visit http://oceanbreezerecovery.org/