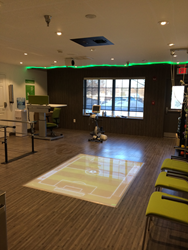 We believe we can create a physical change in a patient's mood for the positive, and there is no better therapy than just making our patients feel good
Chicago (PRWEB) March 03, 2014
When it comes to providing the most cutting-edge technology in rehabilitation services, In Home Personal Services (IHPS) is leading the way in Illinois. After outfitting six local independent and assisted living facilities with innovative Active Health Centers, the group is unveiling its latest purpose-built Active Health Center, which will open Mar. 11, 2014, at Emeritus Senior Living in Rockford, IL.
"This has been an exciting year for us," says Michael Collura, president of IHPS, developers of the Active Health Center. "Through our years of experience with in-home care and providing rehabilitation services in existing facilities, we knew that these spaces needed improved design, up-to-date technology and improved level of care based on new scientific research and our own observations."
What began as a casual conversation between Collura and IHPS COO Ryan Romanak two years ago has resulted in six centers being built in existing facilities based on the latest rehabilitation, green building, and scientific data available. Each Active Health Center is staffed by its own uniquely trained physical therapists and assistants, and uses innovative work stations that allow staff to sit or stand using ergonomically sensitive furnishings to provide a heart-healthy work environment.
In addition, each center is built to exacting specifications. Environmentally conscious materials are used throughout, including LED lighting, low VOC paint, and recycled aluminum furnishings. Each Active Health Center uses state-of-the-art equipment such as a groundbreaking thera-play system, which allows patients to play games designed around physical therapy on a visually interactive floor with sound. This is only one of the ways IHPS encourages patients to enjoy their physical therapy sessions rather than merely endure them. To this end, IHPS studied and incorporated chroma-therapy as well as aromatherapy in each center's design to engage multiple senses at a time, which has been proven to improve both physical and cognitive condition.
"To my knowledge there is not another facility that incorporates all of the technology and cutting-edge equipment that we do in our Active Health Centers," said Collura. "Research shows that engaging all the senses during physical therapy produces better outcomes by engaging more areas of the brain, specifically the limbic system of the brain that controls emotions and retrieves learned memories. By using chroma and aromatherapy, in conjunction with cutting edge physical therapy, we believe we can create a physical change in a patient's mood for the positive, and there is no better therapy than just making our patients feel good."
In fact, IHPS's Active Health Centers receive rave reviews from the facilities housing them to the staff, and most importantly the patients and their families. Often, when a center has opened, participants can't wait to start and often peer through the entrances to get a better look. Once inside, participants are greeted by relaxing, feel-good scents like lemongrass and vanilla, a calming and pleasant LED lighting glow outlining an architecturally-designed ceiling, and an innovative 6'x5' thera-play therapeutic interactive and lighted "game board" that is projected on the floor.
Games that encourage mobility on the lighted game board include a checkers-like game that users interact with by stepping on squares to games like the carnival favorite "Whack a Mole" – but in this version, participants try to stomp on cartoon mice as they pop out of holes in a block of cheese.
"One of the most important things we've found is that making physical therapy fun helps participants and staff enjoy the sessions without realizing that it's work," added Collura. "When participants can't wait for their next session, it makes a huge difference in their overall physical therapy success."
To find out more about In Home Personal Services' Active Health Centers please contact Ryan Romanak at 800-500-8187.
About In Home Personal Services
Founder and senior care provider Patricia Livesay-Smith discovered she had a passion for going above and beyond to help her clients, so in 2002, she started In Home Personal Services. Her desire to reach a broad audience of seniors with affordable, quality care to help them stay in their homes set In Home Personal Services apart from other senior care agencies. Today, the agency has a large network of qualified resources to help customers answer questions about such things as long-term care policy, rehabilitation versus skilled nursing, veterans' benefits, and more. In Home Personal Services also offers a full suite of service and around-the-clock non-medical care. For more information on In Home Personal Services franchise opportunities, visit http://www.ihps.com or call 877-826-IHPS (4477).
###