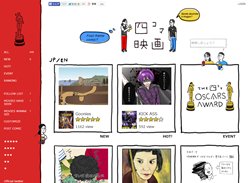 Tokyo, Japan (PRWEB) March 02, 2014
On March 2, 2014, the 86th Academy Awards ceremony was held in Hollywood, where this year's Oscars were handed out to the 11 winning movies nominated in six major categories. Imagine trying to watch all of those Oscar winners - which would take 1,351 minutes, or 22 hours and 31 minutes, nearly an entire day!
That's where our innovative site, Manga 4 Movies, comes in. Manga 4 Movies is an online manga community showcasing popular movies in a comic-strip style, and it is releasing manga on the 2014 Oscar nominees. Here, you can catch the highlights of a two-hour movie in a four-cell manga in less than a minute.
http://4koma-eiga.jp/fourcell2/event.htm
Manga 4 Movies is where Japan's undiscovered manga artists gather and share the comic-strip style manga of their favorite movies with the world. The site, with a growing collection of more than 500 manga pieces since its launch in April 2013, has been gaining significant attention from various media outlets and movie critics in Japan.
The site features a wide variety of films, including Hollywood masterpieces like "Back to the Future" and "The Goonies," and notable Japanese masterpieces like Kurosawa's "Seven Samurai'' and Honda's "Godzilla." Currently, there are over 100 pieces available with English subtitles with more to come in the future.
At Manga 4 Movies, it is easy to browse and find manga in less time than surfing the web for individual previews. An audience will enjoy catching a glimpse of a movie through the masterfully crafted manga. Every viewer can make own lists, such as "Movies I want to watch before I die" and "Movies I've already seen" and share the pieces among viewers' through social media. It is encouraged to upload artists' own manga art work as well.