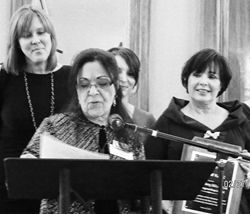 Woodbridge, NJ (PRWEB) March 02, 2014
The New Jersey Chapter of the Community Associations Institute, a national professional organization for property and community association managers, presented its Hall of Fame Award Feb. 27 to Elaine Warga-Murray, CEO of Regency Management Group LLC in Howell, during the organization's annual awards banquet here.
Hall of Fame recognition is reserved for individuals who have demonstrated exemplary leadership and the ideals and objectives of CAI through participation at the local, regional and/or national level.
"Elaine has been a pioneering woman and a role model in professional property management in New Jersey," said CAI-NJ 2014 board President Marie D. Mirra, a certified public accountant in Hillsborough. "She was the first New Jersey woman to earn the Community Associations Institute's top designation of Professional Community Association Manager (PCAM), and the first woman to found a management firm in New Jersey, in 1986.
"The board is pleased to honor Elaine with this prestigious Hall of Fame award for her achievements and her extensive contributions to our industry, our association, and the people in it."
Speaker, Author
Throughout her career, Warga-Murray has made it a point to mentor colleagues in the business, including more than 30 women who have earned the PCAM designation. Several of those women now own their own property management companies.
Active in CAI since 1984, Warga-Murray has chaired national committees, participated in annual conferences, and conducted seminars. She is a published author, a speaker in the community association management industry, and has produced a video on how to select a management company, which CAI's national organization sold for many years. She has been named CAI-NJ Speaker of the Year multiple times, as well as Author of the Year.
Her other professional designations include Certified Manager of Community Associations and Accredited Management Specialist, and she frequently is called upon to provide expert testimony in legal cases involving community management issues.
In 2007, Warga-Murray founded Regency Management Group LLC, in Howell, her second professional property management company.
About Regency Management Group LLC
Now marking its seventh year in business, Regency Management Group LLC provides residential property management services to approximately 18,000 residential units, located in more than 100 different residential communities in Monmouth, Ocean, Mercer, Middlesex, Essex and Somerset counties, as well as 300,000 square feet of office space in New Jersey and Pennsylvania.
Since Warga-Murray and her business partner Glen Masullo, CNCA, PCAM, started the company in 2007, they have doubled their client base. With offices currently in Howell, Somerset, Hamilton and South Orange, the business continues to grow.
Regency Management Group also provides consulting services, including preparation of initial budgets and proforma operational guidelines for developers of community association properties, and management audits for community associations and self-managed communities.
About the Community Associations Institute
The Community Associations Institute is an international organization dedicated to building better communities. CAI provides information, education and resources to all community association stakeholders, including community managers and homeowner leaders.
The New Jersey Chapter of CAI (CAI-NJ) is dedicated to enhancing the quality of community association living, through education, legislative advocacy and professional development. CAI-NJ is the second-largest chapter in the United States, with more than 1,700 members. It provides continuous education and resources to help members stay abreast of current news, laws and issues affecting community associations in the state of New Jersey.