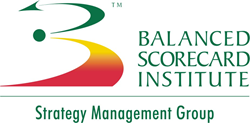 We are delighted to receive these awards for balanced scorecard thought leadership. These awards are especially meaningful coming from the World HRD Congress.
Cary, NC (PRWEB) March 03, 2014
The Balanced Scorecard Institute (BSI) played a prominent role in the recent HRD World Congress held in Mumbai, India, February 15 – 17, 2014. This event is viewed as a major international event in the Human Resources world and marks the 22nd year that this event has taken place. This prestigious event hosts hundreds of delegates from around the globe.
The theme of the conference was 'Mining Human Potential for Creating Great Organizations' and featured, in addition to Alan and David, five international speakers who discussed important aspects of balanced scorecard systems. Both Alan and David talked about how to align employees with an organization's mission and vision using the balanced scorecard.
UK-based Senior Associate Alan Fell gave the introductory keynote presentation on "The HR Scorecard - Aligning HR to the Business Strategy". Alan is a recognized authority on this aspect of creating balanced scorecards and has run public and in-house training events on this subject for 10 years across a wide range of international venues. Alan has 20 years hands-on experience of developing and using the Balanced Scorecard and he leads many of BSI's public and in-house training programs across the Middle East.
David Jalili is a Senior Associate and the Founder and Managing Partner of Ibtikar, based in Dubai, with specific focus on improving organizational performance through consultancy and training in areas such as strategy, performance, change management, processes, the excellence model and human resources. David has been working extensively in this area for over a decade. He has implemented the balanced scorecard and excellence model in numerous organizations in many countries around the Gulf. He has also fully supported the performance and excellence movement in Dubai and assisted many organizations who have gone on to win the Dubai Quality Award (DQA) and other prestigious awards.
About the Balanced Scorecard Institute:
The Balanced Scorecard Institute provides strategic planning, balanced scorecard and performance measurement and management training, certification, and consulting services to government, non-profit, and commercial organizations. Services include public and on-site courses, facilitation and consulting services, and information and tools used by executives, managers and analysts to transform their organizations into "performance excellence" organizations.