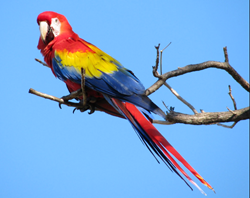 (PRWEB) February 28, 2014
There are few birds in the world that attract as much attention as scarlet macaws. With brilliant plumage of red, yellow and blue, and a squawk that will wake the deal, the scarlet macaw is as flamboyant as they come. Most people know them by sight—they're the expensive, colorful, parrot-type birds occasionally seen at the pet store, or in tropical hotels. In Costa Rica they are fairly common, despite the fact that they are on the endangered species list—but also tend to stay to specific territories such as the Osa peninsula. Unfortunately, over the years this attractive bird has been a target for the illegal, exotic pet market, fetching prices of up to thousands of dollars for a single pair.
Macaws are fascinating birds. They can live up to 60 years in the wild, and mate for life. Their wingspan can measure up to 4.5 feet, and their height up to 3.5 feet. They are omnivores, and their favorite delicacies are fruits, nuts, seeds and insects. These days, there is an estimated 1,500 scarlet macaws throughout the lowland coastal regions of Costa Rica.
In an effort to propagate the species, a local conservation organization called ARA has been focusing on breeding and releasing different species of macaws in areas of the country which were previously endemic, but due to capture and deforestation, have disappeared. One of those places is Manuel Antonio. As one of the country's biggest tourism destinations, Manuel Antonio has long been the monkey 'capital' of Costa Rica, but until recently has been feather-bare when it comes to birds.
Now that has all changed. With the help of the Gaia Hotel & Reserve, ARA recently released 15 pairs of breeding scarlet macaws into the area, with the intention of bolstering the population once again. Similar projects have been done nearby in Esterillos and Silencio de Savegre. These days, it is not uncommon to see and hear a noisy flock of these bright birds fly overhead during lunch at a local restaurant, or while walking along Manuel Antonio beach.
One of the benefits of staying at a vacation rental home or condo as opposed to a hotel is the fact that travelers have more privacy and space—which in general means more animals. Most of the local wildlife is somewhat shy when it comes to humans—sensibly so—and thus sightings are more likely in areas with less population. V acation rentals such as Villa Vigia provide not only a fantastic place to enjoy nature, but also the privacy and greenery to attract the local wildlife.
These days, sighting a monkey in Manuel Antonio is an everyday occurrence. However, sighting an endangered scarlet macaw is a treat for both locals and tourists alike.