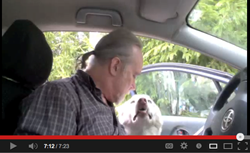 Our senses distort, our minds distort, our beliefs distort, and that's important not as a metaphysical construct, but because it explains why we're stuck in the first place. We are going to remain stuck, because we're solving the wrong 'problem.'
Munnsville, NY (PRWEB) February 28, 2014
On a 24-hour retreat last week, sorting through issues, Tim Emerson, founder of Kwan Yin Healing, had an epiphany—he realized he was saying the things his clients say early on. "I heard that -- and actually turned to my own Kwan Yin Journey program, designed to deal exactly with these uncertain stages of life, put on module one, and listened," Emerson recounts. That epiphany lead to the creation of a Home Study version, so more people can benefit.
"15 minutes, in, I was basking in the warm comradery of the group on the recording. 30 minutes in I was nodding, thinking 'Of course! That's exactly what's going on.' As Don Miguel Ruiz puts it, 'We are generally living shadows of the lives we could be living, asleep, accepting as ordinary and settled a world that is simply not who we are and could be.' We don't have to remain so," explains Emerson.
He paints a picture to illustrate. "You've done well -- roof over your head, the bills are paid, and you're a productive member of society. But it's been a long time since you got up in the morning, filled with passion, ready to face the world. Is this all there is? Have you peaked, destined to remain on this mid-life plateau for the rest of life? You're worried you've missed something, failed to truly harness your potential, but at the same time, you can't really identify true mistakes or flagrantly missed opportunities. Where's the big idea, the amazing opportunity, the chance to grab that brass ring and truly shine? And you'd love to not only prove yourself, but also to truly make a difference, to not only prosper, but also to change the world for the better, even if only your corner of it. But what *is* that path? You've been down this fruitless thought pattern repeatedly. There must be more. But where to find it, let alone realize it?" The Kwan Yin Journey lays out a path to resolution.
Two things from his retreat epiphany stand out for Emerson.
First, how definitely people believe they are looking at their situations, but in fact, are looking at what they believe, not at what the situation truly is.
"That's a challenging concept, part of why the in-depth Kwan Yin Journey takes 11 weeks," notes Emerson, "but clearly true. Our senses distort, our minds distort, our beliefs distort, and that's important not as a metaphysical construct, but because it explains why we're stuck in the first place.
"Consider: if the problem is different than what we think, then we are going to remain stuck, because we're solving the wrong 'problem.' And, since we're stuck, that's exactly what's going on---or we wouldn't find ourselves 'stuck.' 'In progress' is a very different feeling than 'being stuck,' as there is forward movement -- the problem is already in solution.
"And second, if we're unable to see the true problem ourselves, we need to acknowledge that solutions come in seeking help. One of the points I raise for my clients is to ask 'Who are your allies on this?' Hmmm. I had forgotten to set out with allies on this one! My next step was clear—a friendly but outside set of eyes."
Emerson also realized the value of opening the program to a wider range of participants by allowing the program to be accessed not only in teleclasses, but in a Home Study version as well. The new format also comes at a significant discount (60% of the full value). Details of the full program are available at http://kwanyinhealing.com/journey.php, and information about accessing the discounted Home Study version are available at http://mad.ly/080e84.