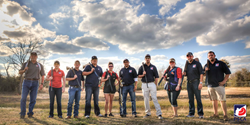 Houston, TX (PRWEB) March 03, 2014
The Professional Sporting Clays Association (PSCA) is pleased to present the professionals of the 2014 Tour! 60 professional shooters will be competing to become the 2014 PSCA Champion, in its inaugural season.
The professionals of the PSCA Tour hail from around the country. Many of the participants discovered a love for shooting early in life, taking part in hunting and shooting sports at a very young age. These professionals also originate from many different backgrounds – finance, business, law enforcement, construction, military, college students, and more!
Combine these backgrounds with the unique personalities and shooting styles of the professionals, and you have a recipe for compelling competition and intense rivalries. You can learn more about the professionals of the 2014 PSCA Tour at psca.com/the-pros and view their Pro Cards via PSCA social media at facebook.com/PSCAtour and twitter.com/PSCAtour. Check the social media sites frequently as new Pro Cards are posted on a weekly basis.
The professional tour will be televised by NBC Sports Network. Programming is scheduled to begin airing in July 2014. The show features nine prime time weekend telecasts from July 27th-September 26th, airing Sundays at 10:30pm (EDT) on NBC Sports.
About The Professional Sporting Clays Association
The purpose of the Professional Sporting Clays Association (PSCA) is to provide a professional tour for top athletes. This tour will give qualified top athletes of the sport greater access to closed competition with other athletes of similar skill. It will also provide access to media and other notoriety, which in turn will allow them all of the benefits of other professional sports. By creating such an association, the benefits will not be limited to the professional athletes, but also to amateur competitors, club owners, and the entire industry by allowing greater mainstream acceptance of the sport. For more information please visit http://www.psca.com