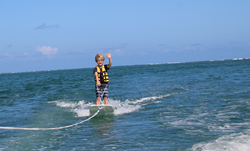 What Polar Vortex?
New York, NY (PRWEB) February 28, 2014
With a winter that just won't release its icy grip, families are looking for the best tropical island to escape the cold. With over 4 million island getaway reviews on Trip Advisor, the savvy traveler needs real advice from luxury family travel experts.
Elizabeth Thorp is not only the founder of the ultra luxe travel site Poshbrood, she is also the editor in chief at Capitol File Magazine in Washington D.C. When she's not interviewing Robin Wright, she is advising her high end clients on travel. Her top pick is Jamaica.
Poshbrood LOVES Jamaica, mon! It's one flight from most major US cities on Air Jamaica, United, JetBlue, Air Canada, AirTran, USAirways/American among others. The beaches are soft and the calm turquoise Caribbean sea perfect for swimming and snorkeling. (Also, for this Shark Week-obsessed mom, I love that there are no dangerous predators in these waters -- it's just too warm!) Jamaica is balmy year round -- there is very little temperature difference between the seasons; you can expect 78° to 85°F (25° to 29°C) all year long. Jamaica also offers a host of accommodation options -- from posh resorts, luxurious, fully-staffed villa rentals to simpler cottages, there are options for every budget. Our family favorites are Round Hill Resort & Spa and Villas by Linda Smith. Tip: Book your trip for after mid-April where rates drop from high season. Poshbrood loves some complimentary nanny service.
Dr. Paul Johnson has been in the travel industry for over 25 years, and would be hard pressed to name a destination he hasn't visited. His website, A Luxury Travel Blog, names the best of the very best. When asked for his number one island pick for families he recommends Crete, the largest of the Greek Islands.
The town of Elounda on the Greek island of Crete is a perfect getaway for families seeking a relaxation with a smattering of luxury.
There are numerous luxury hotels and exclusive rental properties to be found in the vicinity. The Porto Elounda De Luxe Resort has its own Children's Ark, which is great for little ones, and staffed excursions to their own private beach. They also work alongside luxury family operator Powder Byrne. On our last trip, we stayed at Domes of Elounda. Families of older children staying there will love the boat excursions with Alex, and the various watersports that are available from the hotel's own beach.
CiaoBambino is well regarded as the go-to site for families when booking their luxe getaways. Founder Amie O'Shaughnessy has taken her family to Fiji and recommends others do the same.
Robinson Crusoe eat your heart out. Yasawa Island Resort & Spa has just 18 luxury bungalows located in a breathtaking setting just steps away from the beach, called bures, which is Fijian for sanctuary. Every bungalow has a personal hammock and private beach hut. During special family weeks the resort welcomes children under 12 and offers a free Katchi Club for ages five and up so all ages can experience tropical bliss.
A "Best of the Islands" list wouldn't be complete without a few Caribbean locales. Luxury Travel Mom, Kim-Marie Evans, gives the nod to Curtain Bluff on Antigua and Parrot Cay in Turks and Caicos.
Parrot Cay sits on its own island and is called (second) home by Bruce Willis and Donna Karan. This ultra luxe Como hotel was once an adults only property and now not only welcomes children, but embraces them. With beaches featuring sand as soft as powdered sugar and a cosseting staff, mom and dad can relax and enjoy this award winning resort.
At first glance Curtain Bluff doesn't scream luxury, but the old time club atmosphere, no reservations or shoes needed, and champagne included vibe say it for them. The owner still greets every guest for dinner, lunch is served family style and the guest rooms don't have keys. While mom is relaxing in the world class spa perched on the bluff, kids can enjoy as many waterskiing excursions as their suntanned legs can handle. Curtain Bluff is also renowned for its tennis facilities and hosts several tennis weeks featuring pros such as Tracy Austin each year.